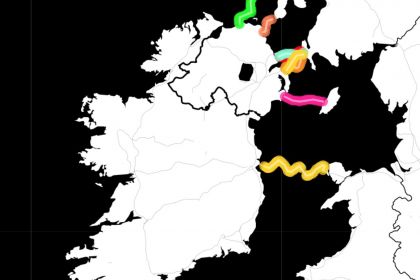 infinity Channel Swimming offers you many opportunities to swim from and to Irelands' shores. To date, we have pioneered new routes, tweeked older routes, and created new ones.  Every journey is weather, tide, and moon dependent so no two journeys are the same.   
Every swimmer makes their own story. With many routes yet unexplored we look forward to the opportunities that evolve as we continue to develop infinity Channel Swimming services with additional craft, experienced crew, and of course you.
Take a look at those routes already ventured: Click here to see all swim tracks in detail.  
The OA Channel
The Dál Riata Channel
The North Channel
Wales to Ireland 
Isle of Man to Ireland
We can draw many more lines on this chart and look forward to more adventures in, on, and around the water.
Thank you to Evan Morrison www.Track.rs  for this chart.