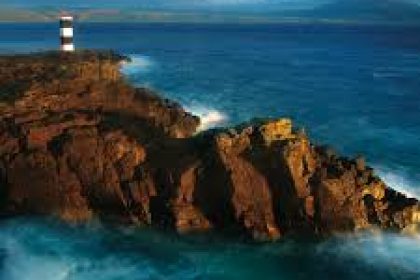 Rathlin Sound Swim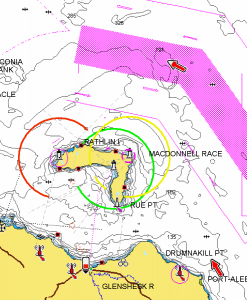 The Team at Infinity Channel Swimming have been invented to revive this great swim 1st attempt by Jack McClelland in 1959 and last swam by Gary Knox in 2010.
Keith Gary ( World's fastest man across the North Channel) and Chris Judge Both Northern Ireland's top opening swimmers have been picked to swim the longer route from Manor House Hotel at Rathlin Island Harbor to Ballycastle 10 Km in Sub 10 oc on the 03/06/17
Rathlin Sound Championship
This Championship started with a trial swim in 1964 with the indefatigable John K Slater as Secretary and was (WAIT FOR IT!!!) for men only! This followed Belfast's Jack McClelland initial swim, from Rue Point to Ballycastle, in 1959.

Rathlin Island Swim
That first swim included six men (two Irish and four Englishmen) who aimed to swim the same course from Rue Point to Ballycastle. Three, including a Channel swimmer succumbed to the bitter cold. Kendall Mellor of Keighley took first place in 2 hours 42 minutes. Bryan Finlay of Coventry was second in 2 hours 46 minutes and Derek Tyrner of Droylesden third in an unrecorded time.
For the subsequent Championships Kendall Mellor then took over as Championship Secretary with the help of John Slater, Tommy Worrall and Bernard Bell. Wisely, the swim sub-committee had available two alternative courses, from Rue Point on Rathlin Island to Ballycastle and Fairhead (on the mainland) to Ballycastle. The other alert on this swim was that the water temperature rarely exceeded 58oF and was often as low as 51oF.
Owing to the unsuitability of Rue Point, and of any port of the basalt cliffs between there and Church Bay as a Championship starting point, the official 4 mile course was lengthened in 1965 to 6½ miles by extending the start to Church Bay on Rathlin Island. The weather intervened and due to fog in mid-Sound the Championship was held over the Fairhead to Ballycastle course.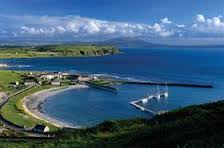 Rathlin Island To Ballycastle Swim
The winner of this event was Peter Hatfield (Middlesbrough) in 1 hour 21 minutes, with Kendall Mellor (Keighley) second in 1 hour 25 minutes and Bryan Finlay (Coventry) third in 1 hour 29 minutes. Two swimmers retired.
The swim was cancelled in 1966 (weather again) and in 1967 it was swum over the short course again, and postponed to the Sunday but still swimmers had to contend with strong off-shore winds and very rough water. The winner was Ronald Jones (Belfast) in 58 minutes with Colin Proctor (Halifax) second in 1 hour 1 minute and Ronald Kellerman (Middlesbrough) in 1 hour 3 minutes. There were 10 competitors.
The Championship was discontinued in 1967 with the hope that perhaps the fledgling Irish Long Distance Swimming Association (started in 1966) might be able to take it over.
However, there are stories a plenty about the craic that accompanied the swim and in fact, the swim itself. These memories, admittedly not in date order, are the result of talking to Graham Smith who attended most of the events.
Patrolling the course in Jum McCurdie's boat, on the very first swim, they kept checking with the oarsman for Bryan Finlay if all was well. First time Paddy McQuilkin, a Rathlin Islander said 'OK'. Second time round he was slower to answer and there was a look of something on his face but he repeated 'OK'. Third time round, the response was different – 'When the —- is he going to throw his arms over his head like the big fellow?' Of course, as a breaststroker of great note, Bryan was never going to do that.
In 1964, the Ballycastle Urban District Council and its Chief Executive, Seamus (James) O'Kane were giving a Reception for the USS Destroyer, Bronson' which was on a goodwill visit. Several of the swimmers and officials were also invited and following conversations between Kendall Mellor and an Officer, the swim entourage were invited aboard the next morning for a tour of the ship. The tour was accomplished and an invitation to coffees accepted by the motley gang. They waited and waited and then the largest pile of steaks, corn on the cob and other delicacies appeared. Memory has it that Bryan Finlaystacked away at least two of the most enormous steaks any of them had ever seen.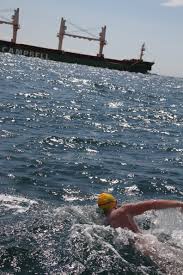 Rathlin Sound Swim
Colin Proctor from Halifax caused an enormous stir at the Anchor Pub owned by 'Jimmy the Diver', on the sea-front in Ballycastle. As Colin came through the door a silence fell. At 6′ 8" he had needed to duck his head. Jimmy the Diver shot across with chalk – 'Stop There' he said and showed Colin the chalk marks of tall people who had visited the pub. He marked Colin's height with a line and his name – definitely the tallest man in Ballycastle. It is rumoured that people came from miles to marvel at the chalk mark in the following weeks!
The swimming entourage were known as a lively crowd in the 60s but they must have thought their boat had come home when they asked when McAuley's Bar closed, to be told 'About October, I think.' Of course, many friends were made, and many remember Sergeant Gerry Anderson of the Police who had spent much of a day sharing the craic with the gang. At 5pm he went of on duty. The party continued, possibly, if memory serves true, with songs, bawdy laughter, shouting – so loud that the hammering on the pub door was not heard for a time. Eventually, Gerry burst in, in full uniform. 'For goodness sake (well —-), will ye keep the noise down, the neighbours across the road are complaining!' It did end.
It was to be another nine years before the full course of Rathlin Sound, from Church Bay, Rathlin Island to Ballycastle was to be conquered. It took seven attempts (in the water), before Margaret Meredith (formerly Butcher, now Smith), swam the full course on breast-stroke. Her crew on that final swim were Graham Smith and Keith Seymour (yes – they'd both been around that area before) with Pilot, Islander Danny Hannaway and his daughter Jean in the big boat. Nick-named Margaret the Bruce (after Robert the Bruce who watched the spider in a cave on Rathlin Island) she took 5 hours, 36 minutes and 38 seconds on a cool June day when the water temperatures varied between 42oF and 47oF. There have been other attempts. So far no one has succeeded.
Rathlin Sound Championship
By
Margaret Smith
August 2006