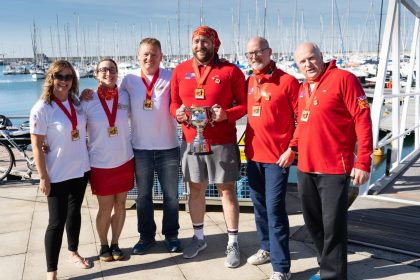 A few days have now past from the Irish Sea relay Channel swim success and the sea has return to its old choppy self.  Some years back we were contacted by Ger and his team asking if infinity was able to pilot a team of swimmers across the Irish Sea.
I am a firm believer in this saying "if your dreams don't scare you you're not dreaming big enough" and love a good challenging adventure so how could I refuse such a mammoth challenge not only physically and mentally but also logistically.   this would be a true testament to swimmers, organisers, pilots and navigators.  All before you bring in the tides sea conditions and weather. All we needed to top it all off was a big spoonful of Irish luck.  So we said YES with a capital Y E and S.  For three days, we got it all calm seas, tough tidal flows and after 38 hours 52 minutes and 42 seconds and 124 kilometers a successful Irish Sea Crossing by a team of six amazing swimmers, a fantastic coordinated and switched on crew on shore and at sea and most importantly vital fundraising for a wonderful charity.
I would like to congratulate the swimmers: Ger Kennedy who started The Irish Sea relay channel swim at North Stack on the rugged coastline of Wales where the full force of the currents could be felt. Ger swam at a blistering pace battle through the standing waves to leave the shore of Wales.  Richard Dunne was next up. Richard has a distinct swimming style similar to water polo players at full attack mode, someone who you do not want to bump into  even by mistake. A pure gentleman.  Richard never dropped one beat Throughout the whole swimming and a good foundation to the team.  Ger Devin, taking over from Richard at a similar speed but working on statistics.  He was constantly fed stroke rates, time taken, distance travelled, time remaining throughout his swim and was clearly exhausted after each rotation leaving it all in the water.  Anna McCarthy, diving in from the support boat with a glistening smile even in the dark.  Anna has beautiful stroke smooth and gentle but do not be fooled by this she cut through the water and is super efficient full of guts and determination.  Dee Newell taking over from Anna casted her charm over the pilot boat. You can see the joy in her eyes with every stroke. Dee swimming strong with every kick in full control.  This lady is unrelentless.  Gareth McDermott enters the water last in the rotation but by no means least.  You can clearly see the work and effort Gareth has put into the preparation off this swim.  His work rate  constantly increasing during his swim.
Logistics team
You can clearly see that there was great organisation and thought put into every aspect after logistics.  The backroom team including John Glynn and Jacqueline updated social media regularly, Evan at track.rs with the all important tracking – watching the wee red dot making progress East, North, North East, South and South east.  As the internet signal was very sparse across the Irish Sea seldom though celebrated on their arrival, the updates from the boat were gladly received by the home team and loved ones watching and waiting.
Support boat 188
The team on the support boat Tony McGregor, Eugene Power and Dave Stynes were fantastic constant, calm and in control at all times.
Observer and safety Crew: Ian Conroy as always the gentleman interested in the finer details, watching every moment and always got a witty reply Backed up by Milo McCourt who's eyes never left the swimmers or the sea.
Pilot Boat infinity myself Co-pilot Nicky Donnelly precise in every adjustment constantly analysing all aspects of the water.  My self I did my wee bit too.
Navigators  Charles Stewart and John Conlon: The knowledge and advice on the stretch of water helped vitally in this success.
This is only the people on the front is many many more people behind the scenes that helped make this a successful achievement.
Let's not forget what its all for: to help create awareness and fundraisers for the Gavin Glynn Foundation.
Please donate generously for these wonderful kids.  Pádraig
#childhoodcancerawarenessmonth
#Ifyourdreamsdontscareyouyournotdreamingbigenough
@infinitychanne3