Harry Jordan Carlingford Swimmers June 2020
2020 was to be the year, my 65th, where on a personal level, my intention was to swim in as many OW events as I could, mind you with no hope of any podium finish I was determined to at least, participate and savour the camaraderie that exists in the OW Swim family.
From a Carlingford Swimmers (the group) perspective, I had hoped for at least one if not two successful North Channel crossings from within the group, we had one team organised a provisional booking made with pilotage and we also the makings of a second one.
In 2019, the group had 5 locals participate in the annual Infinity Channel Swimming, "Hit the Wall" event and entered for its prestigious flagship race "The Battle of Carlingford Lough"
For 2020, we had a promising 15 entrants, which from a personal perspective would have been a tremendous boost for the group, it would have helped the image of OW in the immediate area, which on the outset was the primary reason I set the group up and to promote Carlingford as a quality swim destination.
In 2019, we had members partake in other local and national swim events, one team led by one of our stalwarts Chrissie O'Brien had a successful North channel crossing, whilst other members did The Centennial Liffey swim, Glendalough, Escape to Alcatraz and Killary swims, whilst some of our visiting members crossed Channels, completed Oceans 7's and probably a lot more that I have no information on.
So back to the start of the year and in trying to get people out early and training, I got our friend and colleague Brian Muckian to design and produce 18 special Marina medals, 12 of which were for suit swimmers, with a stipulation that the marina had to be completed before end of March and 6 for skin swimmers who had until end of April to complete the task.
Another stipulation was that any participant would have swam with us at least twice in the previous year, yeah a selfish parochial rule, but I wanted to prevent "trophy hunters" appear then disappear, whilst still awarding our "timber" medal to all. 
We also had hoped to introduce "The Cherry Popper" medal, this was to be for complete beginners a round trip of 800m, and one of our qualified teaching members booked a lane in the local hotel pool and started early morning lessons for all, with open water the end goal.
Then "BANG"
Covid 19 hit us and everyone worldwide, swimming like every other sport, social activity and life as we know it was put on the backburner of peoples concerns and the new issue was survival, turmoil, panic and grief became the new "way".
Rules, regulations and social distancing became the every moment of discussion, here a 2km rule was introduced, where any activity was limited to within that distance, leaving only a couple of people from my village being able to swim, and for 2 bank holiday weekends the local pier and slipway were closed, and The Coastguard had asked for no water activity over same, our swimmers Facebook page went into hibernation with occasional posts about water safety and local rules, friends stayed at home.
Two of us John Savage and myself who live within 1000m of the sea agreed that if tide times suited, we would socially distance meet, and wait for each other on return of swim and then go home.
We had a couple of visits from the Garda to the harbour who checked our home addresses against regulations on a couple of occasions, a weird feeling particularly when the enquiring Garda was not stationed in the locality.
On a number of times we each sat in our own cars and "Whatsapp"ed each other who was a mere 10m away, for me that wears hearing aids a new type of deafness had to be tolerated, no apres swim discussion on wind, wave or conditions, no craic, solitude.
After one particularly pleasant swim during a Whatsapp conversation I lamented the cancellation of "Hit the Wall" and remarked that all the effort and work put in by "Infinity" over the past 6 years seemed to be disappearing and casually suggested to John that we should try and keep the "Swim Alive" without hesitation his reply was "let's do it"
I rang Padraig Mallon of Infinity, told him of our plan and asked if we could use Hit the Wall, battle of Carlingford Lough as our theme, and that we were going to raise funds for a charity SOSAD, (Save our Sons and Daughters) a suicide awareness and bereavement group, made up of volunteers, and that by us (Carlingford swimmers) keeping the swim alive, that our efforts might help keep others alive.
Without hesitation Padraig agreed, so now it was up to us.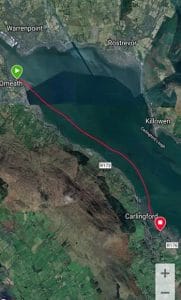 We set up a training program within our 2km limitation range, John made contact with SOSAD and our journey began, we had to pick a date but because of our 2km restriction rule was in place we decided to wait until an easing of distance restrictions was introduced.
Luckily for us that we had restrictions because the official scheduled date in May was beset by hurricanes and conditions that might have seen the weekend cancelled anyway.
Tides and long-range forecasts were studied, and for anyone that has tried to long range forecast the weather, I reckon they would have a better chance of winning the Lotto.
We finally settled on "the longest day" June 21st for our now to be equinox swim, but look and study as we did, "Mother Nature" had to have her say and 4 days before the "off", gale force winds entered the equation.
Prearranged safety cover, kayaker, and time keeper cancelled, donators and friends were starting to enquire about our swim. The newspaper published a full page on it, and we now knew there was no turning back. How do you explain a "window" to a non-swimmer, "aw sure 'tis only 8km (5 miles) you guys can do it in your sleep" was a comment we heard over those few days, we bit the bullet and decided Friday 19th
Since the start of the year I had up to that date, 17th June, logged over 200km in training in all conditions, over 90% covered with my Siamese Twin, swim buddy John, I felt I was now ready, but given experience I now knew that the apprehensive doubts would start to creep in.
The actual distance itself was never going to be a problem, having swam much more bigger journeys in the past, some 6 to 7 hours, but years ago, no trackers to measure and record, sometimes modern technology can rob your swim of the mystery and challenge but when a spotlight shines on you, stage fright is always a possibility,
What if?
What if I cramp? What if the wind gets up? What if? What if? What if?
In the end you teach yourself, to start feeling comfortable with being uncomfortable and that the 10cm (4 inches) between your ears (your brain) is the hardest and longest distance that you must overcome, before you take your first stroke.
I got, what I call "The hee bee g bees" a couple of times, when your anxiety levels rise and fear takes over, In one instance over 25 years ago, I suppose I was a mile or so (1600m) from home, out on my own, I panicked for some unknown reason, no great wind or waves, I climbed ashore went up through a field onto the road and started walking home, I was in skins, I heard a car coming I hid, but the car stopped, a retired Garda who was also a sheep farmer and a lobster fisherman picked me up and brought me home, we at the time lived a mere 25m from the harbour, and in fairness to him, he told nobody, something similar happened my eldest daughter, who had she continued OW, should have been a shining light for others, she was rescued by Padraig Mallon in Camlough Lake whilst in training for an event, she decided to back the following week and again panicked mid swim, again assisted home, and to this day is unwilling to go back to OW 
Trust and believe.
3 words that carry me, having being in business for 40 years, I, on numerous occasions during those years have had to continuously repeat to myself and in swimming the same adage applies, "Trust" your shoulders, "trust" the hard swims, "trust" your experience, "believe" in yourself, see the hurdles embrace them and "believe"
When looking at a swim, I go through a certain thought process, I cannot do anything about the wind, I cannot do anything about the tide or currents, so I try and control what is in my ability, calm breathing, stroke and rhythm sometimes it does not work and survival mode kicks in.
John, my swim buddy for the past few months and "god help him" (he has listened a lot to my bullshit, my attempts at motivational quotes) whilst relatively new to OW swimming is in fact no stranger to the sea, his back ground is in sea diving and surfing. A great guy who you would take into the trenches with you.
Johns late Dad, John Snr, was recognised as the areas most celebrated diver, whose work seen him survey many a ship hull, search for wreckage, and sadly the recovery of lost souls. John Snr never needed a GPS when searching for sunken vessels in The Lough, his natural talent in visualization was renowned, so as the saying goes "Apples never fall far from the Tree" is apt in describing John Jnr's pedigree.
At the beginning of the program, after a 2.4km marina swim, I would casually wait for John, when I finished, and for those that know me I am "slow", to say the least, but recently the tables have turned, and now John sits Pier side while I come home, often joking that my next bit of kit is a Zimmer frame.
I have now found the best training aid available, a yellow tow buoy, John's, damned if I can catch it, but I keep trying.
The swim,
Having finally decided for Friday 19th , 2 hours before High Tide, trying to use the twelfths. Coast Guard, Seatruck Ferry, Marina, our two large trawler owners, Garda all notified, our back up in place, the rest was now up to us.
For anyone that knows me I am not normally shy or quiet about speaking my mind or trying to insist on a point, but before swims, I like to get into my own zone, with as little chit chat as possible.
The fact that only 2 of us were doing this and John had put a lot of effort and time into the promotion of it also meant that there would be people around at departure and arrival and attention and comments would be directed at us.
John is a very quiet refined man all the time and probably felt the same.
We arrived 10 minutes or so before the off, and some of nice crowd of our swim buddies were there to greet us along with a couple of inquisitive local's form Omeath.
Photo's taken, watches synched, quick analysis of water, couple of words to safety boat, I decided to go wide, as there seemed to an ebb, (which 2 hours before HT should not have been there) thought in doing so I could take advantage of the flow, so countdown from timekeeper and away we go.
Build your swim.
The thought I always have had since I started "communal" swimming, up to 2018 I had always been on my own therefore I never needed to put much into starting off, but when I encountered others I found that I would start fast, (well in my mind fast) and would have taken a very long time to get onto a breathing and stroke rhythm, so nice and slowly catches the monkey, one, two, three, four breathe, one breathe, one breathe, one two three four breathe, I have a very unusual OW pattern, probably because I have little or no technique, I am a unilateral breather, which sometimes can be a disaster, then I try to bilateral, legs drop, snaking, I am at ends, but today heading south, 5 to 7 mph wind from east should suit me, then I should go when full into a rhythm, 1,2,3,4, breathe, 1,2,3,4 breathe, 1, breathe, 1 sight and breathe, then start again and if things were really going well I would stretch into 5
sets of 1,2,3,4, therefore giving me plenty of glide.
I has also decided that I was not going to stop for the journey, I find that if I stop once it then becomes a pattern, and as I have a very low head in the water, the energy used from going from vertical to horizontal would sap me.
Mentally planning the route.
I had mentally broken the route into segments and landmarks, some which my Channel swimming peers do with time. The first 2.5 Km to Greers Quay, could be broken up into subsections, Graveyard, St. Michaels college etc
Second 2.5km, houses whose occupants I know, landmarks 2 mile river and so on
Third 2.5km to marina then home straight,
Marina home which I know better than the back of my hand, this year to mid-June I have swum it over 30 times, last year over 70.
After first 500m on leg one I felt a swell, I looked up, was if Seatruck who were due to leave Warrenpoint at 9am? No, then a second one, wow what happened to the "ebb", was I out too far, dunno, keep going Harry you can do nothing about it, it's against you, but sure head down arse up and plough on.
Then I knew that Mother nature was giving nothing away today.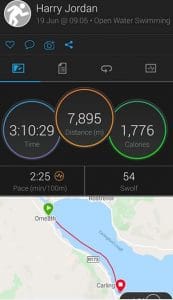 John and I on a couple of longer swims over the previous 2 weeks had hit (for me)good times, 2 consecutive 3.8km's at 1.08.30 and 1.09.25 another at 1.16.40, a 5.4km at 1.54.16, so I did not want to be over confident and even had said that we were due a "bad one" and to anticipate this "bad one" a week before the off we had done a couple of very rough ones in very bad conditions, small as they were only 1200 to 1400m, they drained me.
First 2.5km over I was well and truly settled into a working rhythm, but where was John and Safety? I had to look right a couple of times between breaths until I spotted Graham in his kayak, (mental note to myself, should have got him to wear hi-vis vest over his PFD) he was well right of me, so where was John, took a while to find him, Graham was sited between the 2 of us, so why was he so far away, I looked right for landmarks which I then could not identify then "Eureka" it was me that was too far out,"oh shit Harry calm down and pick a longer mark, and gradually pull back in", then thoughts " Jaysus my time is going to be shite",
Settle Harry," you can't do any worse than last year, I was last", so back into rhythm, plough on, feeling strong but the water is giving me nothing, I have to work every stroke. "Oh shit" slapped in the face with seaweed, "don't stop Harry, pull it off between strokes" couple of more mini episodes like than, then I see a "tourist", A jelly then another. Small, don't look like "lions" "Aw feck it keep going" but where is the Dolphin? Over the previous few weeks, a dolphin had repeatedly appeared in The Lough, "listen Flipper, Fungi or whatever they call you, I welcome you to Carlingford, but for Jaysus sake stay in Greenore or Rostrveor today"
The headland approaches and I know the cranes of the marina are just behind it, now for anyone that has done Omeath Carlingford swim before, all reckon the marina is the hardest stretch, It is over 700m from one end to the other, but most forget about that distance and think 1200m (distance from southerly point of marina to Carlingford slip) 
I am looking right and spot John whom I thought was a couple of hundred meters ahead of, we are almost parallel but I am too wide, I look to pick a mark and see a trawler which to me seems like 250m going left and right, "Shit" which way do I go, I need to go right or else if I keep straight, I am looking at a dog leg right coming in.
Luckily Graham, gets to him and stops him, (I had notified trawler owners previous day, with our ETA) I had also decided not too look at watch, I thought either we are going too well, which I doubt or we are going terrible.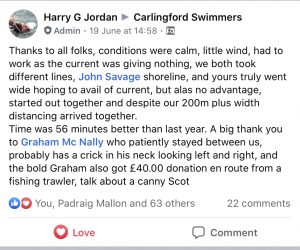 Graham in his chat with them, gets £40 sterling for our charity, and later as it transpires the trawler guys were sub-contracting to the main trawler, and never knew about the swim. (Mental note, if there is a next time when I notify Trawler guys make sure I follow up with question about subbies)
500m from home I see people on Pier, disregard them get in fast, show off you stroke (ha ha) feeling good, open it up, allow for cross current between Piers, where is John, glance right, wow 20 or meters beside me, he is going to have to work to pull left for slip, Harry glide you are home, at Pier 150m to go and despite my deafness I could hear encouraging shouts and cheers, look up, people on slip, emotions wow "this is what it is about" 10m to go, I look for John he is immediately behind me, I get feet on ground, stop the watch, grab John by the hand and we get out together.
Record intact.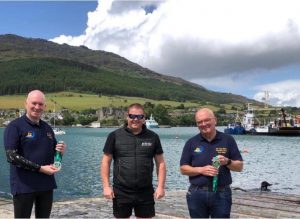 Last year last, this year joint Last,
The Joint Winners for 2020 "Battle of Carlingford Lough";
The annual Omeath to Carlingford Swim and SOSAD
Clapping and cheering from my swim family, Marian my better and long-suffering wife, greets me with a mug of tea and a kiss, yes in this game there are no Magnums of Champagne, more clapping
John grinning, (I have not asked his thoughts, I reckon his late Dad was in them, John Snr swam the Lough)
I spot my grandson Sam, my daughter Maeve, do a double take, see 2 of my sisters and a brother in law.
My two families here, everybody in good form, the last 4 months with Covid 19, has taken a terrible social and economic toll on everybody.
No one has been immune of all its effects and side effects Swimming in the sea has helped me through it all, I am one of the lucky ones.