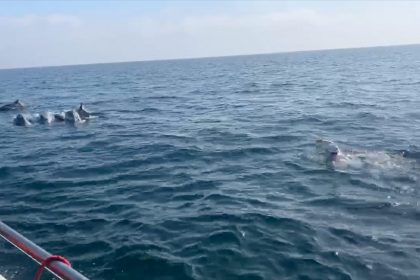 A wee thank you.. 🇦🇺 🇫🇷 🇮🇪
Last Monday 26/8/19, I was lucky enough to swim across the North Channel between Donaghadee (Northern Ireland) and Portpatrick (Scotland).
The conditions were good, my support was excellent, our hosts/pilot/crew (infinity Channel Swimming ) were perfect, I felt great. Everything aligned. 12h41. The North Channel granted me passage – with a gentle nudge from a pod of about 30 dolphins…
As I walked onto the beach in Scotland I experienced a feeling of accomplishment, aliveness, elation and gratitude which is difficult to convey. For that feeling of aliveness alone, I would do it all again in a heartbeat.
I want to thank a few people who were instrumental in making this possible, fun, and an amazingly enriching human experience along the way.
Tom Blower
For leading the way – in 1947. Immense respect and debt of gratitude for the pioneers and trailblazers who set about to take on such challenges in the time and conditions they did. Hat tip, respect and thanks. Look for Martin Strain's book on Amazon: "Tom Blower: The Humble Hero Who Conquered the North Channel".
Brendan Maher
Who once again was kind enough to join and support me on this endeavour, with me in Ireland, on the boat, by my side, in cold water, across every logistical detail, feeds, meds, mental and physical prep. Thanks for your selfless support. Thanks for awesome social media coverage, keeping friends and family updated. Thanks for your incisive wit, sharp mind, and for being a swimming inspiration. I owe the seamless success of both of my recent channel swims to your presence. Forever grateful.
Infinity Channel Swimming
Thank you Padraig Mallon, Jacqueline McClelland, Milo Mccourt, Kieran, Jonathan Groves, Captain Davy. Our experience was seamless from day one. Communication was clear, forthcoming, comprehensive, and friendly. Logistics were excellent. Jacqueline was there to greet, support, document, congratulate, and then celebrate at every step. Our boat crew on Aquaholics (Kieran, Jonathan Groves, Captain Davy) went above and beyond in spotting for manes, and ensuring my swim was a success. Padraig Mallon, thanks for waiting to give me a lift back to my boat, it was great to see you there. Thanks for enabling people to strive for these challenges in such a well structured, professional, safe, fun and friendly environment. Give us a shout when you come to Australia – Looking forward to seeing you both at the November dinner.
NC 08/19 swimmers
The Brisbane NC3; John Haughton, Michael Powell, Anna Strachan, and their support crews, Peter Buchan, Jo, Ooga, it was great to share this experience with you. Congrats to all of you. See you in November. Elizabeth Fry – So much class Liz, thanks for being so warm, calm, humble and friendly. Thanks for opening the window for us, congrats on another fantastic achievement and being such a giant of the sport, I hope we meet again someday. Attila Manyoki – thanks for pushing the pace mate. Great swimming with you, congrats on your O7, you're a tough nut for coming back after what you experienced. Jorge Crivilles Villanueva – great to meet you, great to share that swim, hope to swim again soon amigo. Thanks for the shirt 🙂 Rafa Pastor- unbelievable that you paddled those conditions in the last hours.. Outstanding support. Y Nora Toledano tambien – so nice to meet you.
Vladswim
My coaches, Vladimir Mravec – and Jai Di Tommaso and Martin Vavrek. Thanks for your guidance, training, swims, the community you have built and the fun you infuse into our training. Your careful training and program has been awesome. Onwards.
Tara Diversi @ sportsdietician.com
Thanks for making me fat (I know you didn't want me that fat) Thanks for looking out, for experimenting with cold with me, looking after my nutrition and keeping me grounded throughout.
Martin Strain and the Donaghadee Chunky Dunkers
To the extra special group of humans that dunk in cold water every day in Donaghadee harbour. Thanks to Kathryn Strain and Martin Strain, Wendy Barlow and Syd, Allison Allen, Joanne Onstwedder, and everyone else. Your welcome and support of visiting swimmers is second to none. What a fantastic tradition and community you have. It was great to swim with you everyday. Thanks for being there to see off each NC attempt. You are a class act. We'll be proud to show you around our waters if any of you are around Sydney, give us a shout. Thank you for everything!
Pier 36
Thanks to Sarah Cochrane, Lewis Waterworth, Jody Waterworth, and Dennis, for a fantastic stay at Pub on the Pier | Pier36. Great service, friendly vibe, awesome food, and great community. Hope to be back one day soon! Give us a shout if you're around Sydney.
Friends, family, swim buddies
Claude Lord, Eric and Bronwyn Bateman, Timmy Garrett, Niall O' Rourke, Andrew Hunt, Marty Filipowski, Greg Lecrevisse, Niels Pantenburg, Vladswim Squad, Kane Orr, Lawrence and Elaine Stubbs, the Gill clan, Andrea Huntley, The plunge boys, Gilly Lynch, Lyndal, Carmel & Peter Blom, Ant Schwager, Merewyn Lord, Chantal Boralévi, Coby Banjac & Drago, Laurent Doyen, Julie Isbill, Pauline English, Tobias Lord & Jeremy Lord, John Maher, Edwina, Sam Abeshouse, Fanou Brenas Graffin, Magali, Tristan Brown, Janice Irene Somas, Scott Kristiansen, Von Ascheberg Michael & Larissa, Julie Iacobescu, Anderson Fetter, Lynton Mortensen (for reminding us to smile while I was shittin my pants), Dean Swimmer and Kylie Summers, Elizabeth Verth, Eva Magyar, Cristina Lawrence, Inge, and everyone for their support on Facebook.
Thank you for your support and encouragement before, during, and after the swim.
Merci. 
️ 🇦🇺 🇫🇷 🇮🇪
Pierre
What a team … congratulations Pierre
and to be the first for France 🇫🇷 is extra icing on the celebration cake 

First Swimmers Country
Watch Pierre Lord- North Channel Swim