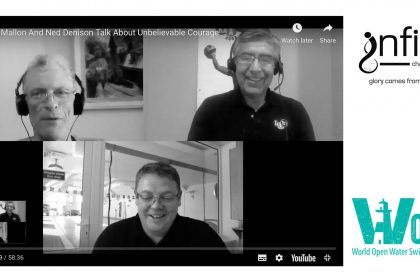 infinity Channel Swimming Director and Chairperson of ILDSA Pádraig Mallon interviewed on WOWSA's 'Open Water Wednesday' with open water greats Ned Denison and Steven Muñatones.
Ned Denison had a fascinating wide-ranging discussion with Pádraig Mallon of Infinity Channel Swimming in Northern Ireland on Open Water Wednesday.
"We see so many people with unbelievable courage," said Mallon about the channel swimmers, ice swimmers and open water swimmers who he has encountered from his home in Newry, Northern Ireland to many places around the world including China and South Africa. "We see people have a glow about them that continues for a lifetime [after finishing a channel swim]."
On the Zoom platform, Denison interviewed Mallon who talked about the Chunky Dunkers of Donaghadee to marathon swimmer Dr. Caroline Block from New York.
Mallon, seemingly mild-mannered, is a true adventurer through and through. Soft-spoken, his descriptions of those whose he has met, escorted and swum with come through loud and clear. Listen above and enjoy a casual talk from two of the World's 50 Most Adventurous Open Water Men.
For more information on Mallon, visit Infinity Channel Swimming.