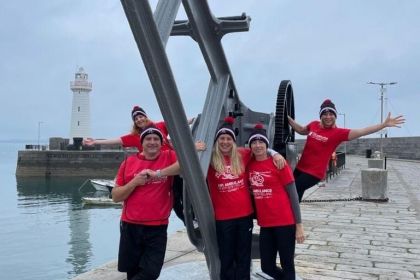 When I completed my first channel relay with Infinity and the Deadly Diamonds in 2016, I thought it couldn't get any better and that I wouldn't do this again.
However, training with my friends during the COVID pandemic made me realise the importance and strength of friendships made during our open water swims.
Each North Channel swim has been very different but very beautiful and Infinity provide constant care, encouragement and safety for every swimmer. Their knowledge of how to swim the North Channel has come from years of experience, studying the tides and weather conditions to try to get the "best" day for all.
There were 3 crossings on our day.
infinity Skipper was mindful of each swimmer's needs and helped us to feel safe when we swam alongside the boat. He provided safe changeovers for each swimmer.
Milo infinity Crew didn't bring out his "big stick", so we were either swimming very fast or he just liked us! He was looking out for jellyfish, porpoises, seals and the huge waves at the end. His main thoughts were for the safety of the swimmer. I won't mention anything about the boiled eggs!
Ruth, our ILDSA North Channel observer, was kind and thoughtful, she worked alongside the crew and helped with jellyfish spotting and safety.
Thanks to infinity Channel Swimming for another amazing crossing. Here's to the next challenge!
Jane x