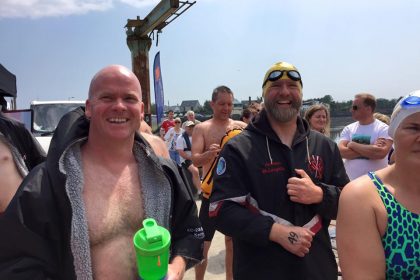 HITtheWALL 2016 Feedback

Just a very small snip of the feedback from the HITtheWALL weekend 2016
Great weekend- a real challenge at times! Preferred swimming A to B so would have enjoyed another of those. Felt safe throughout and all the helpers were brilliant! Congratulations on a brilliant weekend!! 🏊☀️🏊
You guys have lifted the bar! Last year was awesome, but this year you've taken us to new limits. Fantastic organisation, always felt completely safe, super friendly atmosphere from everyone involved. You even got the weather spot on! 😆Can't thank you all enough.
Awesome weekend. Great to see the Infinity gang again. Huge thanks to everyone involved but especially the kayakers who all did a fantastic job. Hopefully see you all again sometime.
Brilliant weekend! Could hardly lift my arms above my head to be scanned at Belfast airport 
Thankyou and your team for giving me one if the greatest weekends of my life, it was just immense
Thank you Infinity #HITtheWall team for a brilliantly organised swim camp – I'll be back again!
Super weekend. Very well organised. Well done and thanks🏊🏻☀️
Thanks team Infinity for another amazing weekend! Brilliant 🏊🏻👍
Thanks to all the INFINITY Team! Fantastic opportunity to meet and swim with the most amazing and inspirational people, in the most beautiful place! I HITtheWALL!!!!
Thanks for a great weekend folks. I've learned a few things and hopefully they will help me on my journey. Cheers guys, an amazing organisation
Michelle Brooke
thank you everyone for all your support. definitely hit a wall today a great challenge with alot learnt and eager for more. see you tomorrow ☺
 Thanks for a super weekend folks. Looking forward to '17 already.
It was a great weekend. Thanks again and will definitely be back next year….
Weird yes. Miss it and you all already. Where do I sign up for 2017 ?
Very weird.
Ironically I hit the wall today in an Edinburgh office – feeling as though I'd gone from 🏊🏼🌊200kmh for the past 4 days to an abrupt ⛔️
Cheers for the weekend !
HITtheWALL 2016 Feedback
Book 2017

HITtheWALL
As they listened captivated by the adventures of local extreme sportsman Banjo Bannon recounting his treacherous and triumphant ascent of Everest interspersed with funny tales about the 'selfies' on the summit, the final preparations were taking place to ensure the majestic Victoria Lock on Newry Canal was ready to host its first ever night swim.
With an air of excitement, nervous tension and a real bring it on attitude, over 100 signed up, collected their white event swim cap and headed for the first event of four days open water endurance swimming that would test their willpower and their spirit in attempt to HITtheWALL.
With an uncompromising safety schedule formulated by Patricia McParland, each swimmer would feel safe at all times in the water and in recovery.
To the refrain of an Irish lilt played on the bagpipes by PJ Boyle, the swimmers entered the water, glow sticks dancing in the soft pink dusk light. Victoria Lock a picturesque sight.
An early start on a gloriously sunny morning for day 2 with a 90 minute time trail swim over a short course in Carlingford Lough. Surrounded by the beauty of The Mourne and Cooley Mountains, Infinity Event Hub was busy with chat and nervous energy as swimmers checked in for their swim and were assigned their ID number for the weekend.
Fully briefed on all aspects of the swim ahead, with a shrill whistle start, all were off and racing and not the choppy waters nor brisk north easterly wind could stop them in their tracks.
With the first swim of the day complete, on exit from the water a welcome cup of hot juice settled the shivers and with only three hours before the next swim start it was time to fuel up with hearty full Irish breakfasts at the local restaurants.
Nerves settled and hunger satisfied, the sun shone as 120 swimmers signed in for the next swim, 3 hours over a 5k out and back course this time with the offering of a yellow Beyond Your Limits swim cap which would indicate to the Infinity Team that the swimmer was up for being pushed that extra bit, to have their limits tested, to have their stamina and forbearance challenged before they entered the water. Those, and there were many, who changed their hat colour to yellow were throughout the course of the swim asked to change swim direction or given extra distance or provided with another challenge during their swim and were thinking that perhaps next time the yellow cap should stay in the kit bag.
Back out and everyone's mummy, Bridgeen Mallon had a warming pot of home-made soup on the boil for all to savour.
The evening's entertainment wasn't the usual relaxing partying option for the HITtheWALL team, instead it was more shop talk/swim talk with fantastically informative sessions with swim coach Pawel, Ocean Sevens Anna and to finish the day yoga with Shirlí. With weary eyes and shoulders all hit the hay for another early start.
The sun was up from 5am as the crew set up for the second TT, this time a race start – kicks and splashes for pole position left a few gulping some unexpected salt water. This race gave a great buzz to the onshore and offshore safety teams with many locals and tourists stopping at the end of the pier to ask what was going on.
Sunday swim 2 was met with a lot of nervous relay team members. This was the qualifying swim for those wishing to participate in a Channel Crossing. A few tears, quiet moments and great team spirit spurred all on as they stepped aboard boats to be taken to their swim start point at Greer's quay. The sun's rays dancing on the water and reflecting off the diamonds logo on the blue swim caps of the Donegal Diamonds Water Polo team. Their big race day tantalisingly close. Many HITtheWALL during this swim but gave their all and triumphed.
Another day of swimming over, a second evening in the classroom and crew and swimmers were joined by the King of the Channel Kevin Murphy and strength and conditioning coach Gary Lundy. HITtheWALL'ers had no shortage of questions for the experienced Kevin and was glad of the opportunity to stretch tired, sore muscles during Gary's Body Balance session.
One more sleep and an early 6am start for the last of the swims. A 6 hours qualification or 2 hour distance. A blustery start on an incoming tide gave way to a beautiful calm sunny afternoon. Arriving to Omeath to rapturous applause, good food and warm drinks, the 6 hour swimmers reflected with a wry smile that it was almost reason enough to swim for that length of time in a warm 12oC, colourful bathtub!
Reviews have been amazing with some admitting they HITtheWALL at work later in the week when the valiant swimming efforts during the weekend caught up with them
What does HITtheWALL mean to you? For the Infinity team it's that you come back to shore, touch the pier wall and know you have given the journey your everything.
I'm ready for it all 😜