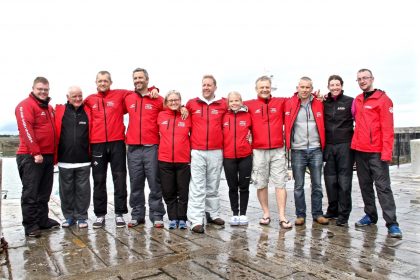 GLORY COMES FROM DARING TO BEGIN
Fast and Frozen North Channel 2 way relay team 27th – 28th July 2015 with Infinity channel swimming.
In February of 2015 following competition at Murmansk, Russia International Ice Swimming Association 1k championships a group of swimmers formed to take on a challenge set to them by Pádraig Mallon something that had never before been achieved.  In previous years both Kevin Murphy and Alison Streeter MBE had attempted a 2 way solo crossing of the notoriously challenging North (Irish) Channel from Ireland to Scotland to Ireland but none successful and never before had a relay attempted this feat.
The team Henri Kaarma Estonia, Ryan Stramrood South Africa, Anna-Carin Nordin Sweden, Zdenek Tlamicha Czech Republic, Patrick Corcoran Ireland and Elina Makinen Finland had all competed at these games achieving podium places their talents ice and cold water swimming and a fast stroke rate (spm).  Application was made to the ILDSA for the swim and the date window was offered as July 2015.  Fast and Frozen the team name was born based on their ice swimming history and off course their swim speed.
All arrived in Dublin from across the globe, raring to go only to be advised that Mother Nature would delay their path with high winds and stormy weather.  The original swim date of 24th July 2015 was pushed back and the team took some time out to sightsee and rest.
Monday 27th July 2015 arrived and after many discussions around tides, weather and an almost complete cancellation the decision was taken to go. The team arrived at Donaghadee harbour with food boxes and kit bags packed for departure at 7am with high water approaching.  This would be a tough ask but the training they all had completed in colder, rougher waters would help their advance on a world first.
They were taxied to Robbie's Point on board Aquaholics II, a traditional start point of many of the North (Irish) channel swim routes.  Henri Kaarma was first to swim entering the water at 7.48am.  He swam to shore line and raised his hands whilst standing on some barnacle-covered rocks.  The claxon sounded and at 07:52:00am under the watchful eyes of Pádraig, Richard, Gary and Milo the swim started.
The first set of six one hour swims met with rough waters and higher knot winds but the team has been briefed on this and expected the water conditions to be challenging.  Originally planning for a 12-hour crossing landfall was reached at Portpatrick Scotland at 11:33.06pm giving a 15hrs 46 minutes 6 seconds crossing Ireland to Scotland.
After climbing down from the rocks and with the lights from the boat to guide his path Patrick commenced the return leg to Ireland and still had over 15 minutes left to swim of his rotation.  He returned to the boat at 11:53 pm having changed in relay formation with Zdenek at 11.52 pm.  Patrick was elated and responded 'sure I'd no money with me' when asked what did he bring the crew back from Scotland? having spent a short time there.
In the dark of the night as Tuesday 28th July 2015 arrived and with glow sticks attached to their swim caps and swim costume, one swimmer after another advanced toward their final destination.  Zdenek changing to Elina for her first ever night swim, to Henri then to Ryan, to Anna as the dawn approached back to Zdenek, Elina and so forth.  Each exiting the water having swam fast but frozen and badly stung by lion's mane jellyfish requiring prompt medical attention from their crew to re-warm, hydrate, eat and sleep before preparing for their next swim.
Dawn came at 5.18am as Zdenek swam into a 6-knot North-easterly wind. The promise of a slack tide was fulfilled and on Henri's fifth swim rotation starting at 07.52am the water settled and the skies cleared.  His fast and efficient stroke gained the team some advances to land but land although to the eye seemed close would be another few hours away.  Ryan was next to swim having recovered well from a lot of stings to his face and upper torso.  The slack tide brought a pod of dolphins including a mother and pup. It was a boost for the team to see such a sight with the thoughts that this friendly species was guiding them home. Ryan changed to Anna at 9.52am and having been stung quite a lot in her previous swims she was adamant that this close to the finish line the jellyfish were not going to bother her.  Having completed Oceans seven Anna had earned the heart of a lion so this time lion's mane were not going to stop her path.  She swam at a rate of 80 spm with a northerly 2 knots breeze and encouragement from her team as the waters changed constantly and the rain continued.  Zdenek made his final one-hour swim starting at 11.52am on a tough tidal flow passing to Elina. Ireland was getting extremely close but it was important that the relay formation maintained its sequence and Henri was prepared to swim again.
The GPS was tracking 800m to landfall and Elina had 6 minutes to swim.  With a smile, she kicked her legs and rotated her arms all the faster and the shoreline came closer.  At 1:49 pm on 28th July 2015 she made landfall raising her hands in the air to the sound of the boat claxon and the celebrations from the boat.  The second leg of the crossing taking 14hours 13minutes and 13 seconds creating and a totally new world record time of 29 hours 57 minutes and 23 seconds.  A world first two-way relay crossing of the North Irish Channel by a world team.
On return to the boat to amazing cheers, Elina described how she felt like a mermaid climbing on to the rocks and how she could not see the beautiful emerald isle for the tears in her goggles.
The boat turned about and made way to Donaghadee harbour Co. Down to awaiting crowds who cheered them home. The by-line Glory comes from daring to begin Pádraig's choice resulted in just that.  There are not many firsts left in the world Pádraig said, Look how the world has applauded the success of the Fast and Frozen team I hope that this inspirational feat will spur someone else to rise to the challenge.  
Facts
start  7.52.00 am 27th July 2015
landfall Scotland 11.33.06 pm
finish  1.49.23 pm 28th July 2015 total  29 hours 57 minutes 23 seconds
Each team member swam 5 x 1 hour with Elina's 5th swim at 57 minutes.
Ireland to Scotland 15 hours 46 minutes
Scotland to Ireland 14 hours 13 minutes