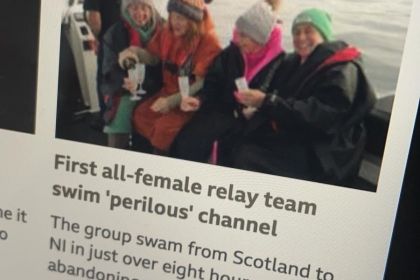 This was a rollercoaster journey from Mull of Kintyre to Tornamoney Point, Co Antrim.
The water was crystal clear, but cold at 11'c.
The scenery was majestic, "dark distant mountains with valleys so green"!
infinity's star Jacqueline was there to look after our whole team and she knew what each of our needs were throughout the day. She encouraged us to be a better team and a family unit. She did live streaming and made some marvelous TikTok videos which would make our children proud.
Pádraig's knowledge of the treacherous channel ensured our safe passage.
Jack Boyle, well I knew he could shout at me for an hour (words of encouragement only) to swim faster and faster, even with a leg cramp!
Thanks again for an amazing adventure !
Jane