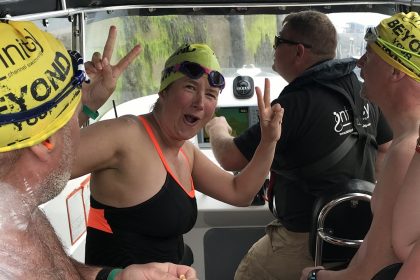 #HITtheWALL
An email went around the outdoor Swimmer team – yoga, meditation, swimming weekend in Ireland … "Alice this looks right up your street", said our Marketing Manager Sharon "ooh sounds really wonderful – Wicked!" … flights booked, I took a closer look at the HITtheWALL Distance Swimming weekend Itinerary… Day 1: Fire Walk: A walk across hot coals … I started to twig that perhaps there was a little more to this weekend than I first thought…
HITtheWALL is the brain child of infinity Channel Swimming, founded by Director Pádraig Mallon, Jacqueline McClelland and Aoiffe Lynch with a crew who have an abundance of open water swimming and piloting experience (e.g. for the marathon distance, the North Channel one of the Oceans Seven).  Since 2014 the infinity Crew have brought together novice and experienced distance swimmers from around the world for a weekend of swimming, "just for the craic"… in the fresh waters of Carlingford and the surrounding areas.
And so on a stunning summers day, I arrived at the lovely Oyster Bay Cottage and met my wonderful housemates including channel swimmers Matthias Kassner and …., each wanting to find out what their wall was and discover whether they'd bounce, hit or smash through it…  
Fire walk and '90s Rave  
On Friday night we headed to Camlough lake, Co.Armagh  for registration and the night swim (750m laps in 11 degrees water under the moon – beautiful).
The registration form asked whether I wanted to wear a yellow hat. I wrote "I don't know". It was an honest answer. Swimmers that elect to wear a yellow hat, commit to undertake additional, unknown challenges throughout the weekend. A yellow hat found its way onto my head… and the anticipation of the challenges it would bring me!
We were welcomed with an inspirational talk by Marathon de Sables finisher Lauren O'Malley reminding me that there are always heroes among us, in fact, I was surrounded by them, and we didn't need to have given a Ted lecture to prove it. This was followed by an amazing warm up of energizing dance moves as the sun went down – all a bit café del mar – and then we walked across hot coals – I'd flipped the switch to open my mind and started the weekend as I intended to go on – BOOM!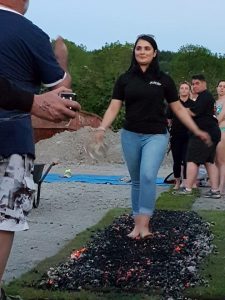 Waves
Saturday was the big event – the 7.5km Battle for Carlingford Lough and what a swim it is! Skins and wetsuit swimmers dived off the pier in Omeath Co.Louth. I held back, just a little bit thoughtful about the temperature… "A yellow hat – you're brave" said one swimmer; "Or stupid?" I replied.. her swim buddy then looked at me and said "Do you know the difference between bravery and stupidity?", "No?" I said… "The outcome" he replied as he dived off into the brackish water. Wicked!
Irish folklore tells us it usually is warm in May in Ireland and that you can get four seasons of weather in one day.  The air temperature was unseasonably warm and the waves were full of variety.   The kind where you can't see over the top, and also unexpectedly just swoosh you to one side out of the blue. Throughout I felt extremely safe. I knew the crew were watching me. And the banter was high.
When I got out of the water, as a yellow hat, I was told to go back down the pier, jump in a boat with Pádraig and Jacqueline and we were taken a 3km back out along the course and had to swim back in again… I loved it!    
Swimspiration  A long, long time ago, in my life before outdoor swimming ('LBOS'), I was channel surfing and stumbled upon a short documentary about a female distance swimmer in Ireland. It followed her as she swam through the waves along the coast, in the rain, with green cliff tops curving along beside her. I was captivated and dreamed of one day being able to swim at this spiritual home of distance swimming. This was perhaps best epitomised by Ciara Doran who at just [16] years old, won the battle for Carlingford Lough in [01.48.16]. When the Irish sea is your local pool, perhaps it's unsurprising the swim talent that blossoms there.  
We all received the beautiful Carlingford Lough swim medals and the HITtheWALL Trophy was awarded to Aoiffe Kiely for her swim demonstrating the ethos of the event.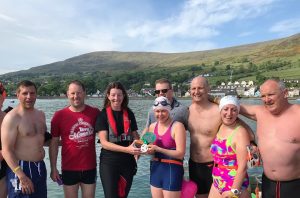 I wondered when I might find my wall…  
Yoga, mindset and recharge  
Sunday morning I made it to the yoga and meditation session. Throughout the weekend Shirli leads these brilliant sessions which helped re-set my mind and body. However tired I was after the various swims, it was worth getting out of bed for. It meant I was re-charged before each swim and kept injury free throughout the weekend where we covered something like 40km of swimming.
Team work
All the swims are optional. Some people had just signed up for one swim – others, like me, had signed up for everything. An outline of the itinerary is below. Sunday was a 2-hour swim and then yellow hats once again headed off for an extra adventure. Shivering under my dry robe we rode out to Hawbowline lighthouse, leap into the cold rolling Emerald waves spotted with jellyfish, and swam out to where the Mourne mountains sweep down to the sea.
I'll be honest. On that speed boat, under my dry robe having just completed a 2-hour swim in 11-12 degrees, I did wonder if I was a bit out of my depth. There were one or two other faces expressing the same. But, the infinity crew were watching us all the time, checking in with us. By the time we got to the lighthouse I was so excited. This was the swimming I've dreamed about. Rolling waves, lifting me high, but unable to see over their crest, I adjusted my stroke to the movement and with the rain falling – the kind of swimming I've dreamed about! Back on the boat the atmosphere was electric. Huge smiles, and camaraderie amongst the swimmers from America, South Africa, Australia, Germany and beyond… Anything is possible!
After this the water felt warm That evening we had "Ice and Dice", the details of which were only revealed once we were harbour side: Two Ice baths, with seaweed. Roll the dice and the number rolled dictated how long you had to stay in (seconds mostly…); then out the ice bath and straight into the harbour for a 750m loop, with the addition of some extra psychological challenges for the yellow hats – which I won't disclose – wear a yellow hat and you will discover more…
I'd thought that with my 6 hours swim on Monday morning, that I would skip ice or dice, but I was so glad I didn't.  After the lighthouse, I was on a roll and time and again, I was, by keeping an open mind, taking each moment as it came, I had found my walls AND I was swimming through them …  
I love swimming
Monday morning and a remaining small group of swimmers undertook 4, 6, 8 and 10 hour swims, many in preparation for the North Channel or similar marathon distance open water challenges.
I had Jack and Kieran on my support crew. I couldn't have wished for better. Over the six hours we travelled across, around, up and down the beautiful Carlingford Lough.
Twice the waves were so big I was almost flipped over.  I lost count of the times I laughed. The term "craic" is somewhat undefinable, but I think I found it's meaning in that lough! So wicked. (put in here one of your wee sayings)
6.5 hours later I emerged from the water. We all headed to the nearby Granvue hotel for soup, Guinness and a prize giving. Despite the cold water, this weekend is packed full of warmth. Each swimmer received a mug made by a local potter.
An unbelievable weekend of friendship, challenge, adventure and unlocking what we are really capable of – be it a first night swim, first 4 hour swim, yoga session or more… Thank you infinity Channel Swimming and all the participants – see you again next year!  
What to expect:
Water temperature: 11-13 degrees
Weather: Anything could happen!
Atmosphere: Banter, warm hearts, and laughter of the type you only find when swimmers from around the world gather to celebrate their love of water.
Scenery: Stunning
If you CHOOSE to wear a yellow swim hat then you need to expect the unexpected. Wearing a yellow hat indicates that you are willing to be pushed harder and undertake additional swim challenges in addition to those timetabled #HITtheWALL.  
2018 Itinerary
Friday: Fire Walk and Night Swim
Saturday: Swimmers Yoga The Battle for Carlingford Lough Swim and Meditation
Sunday: Yoga and Meditation; 2 Hour Qualifier; Yoga and Meditation/ Lighthouse Adventure; "Ice or Dice"
Monday: 4, 6, 8, or 10 hour swims
Every session is optional – you sign up and complete, whatever you wish.  
2019 Save the Date
24th – 29th May 2019
See infinity Channel Swimming for more details.