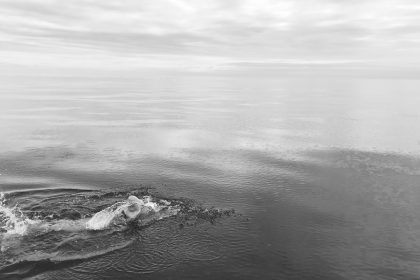 Following on from the successes of the HITtheWALL trilogy, HITtheWALL 2018 boasted a sell-out four day open water swimming weekend with a global attendance list including Australia, Norway, South Africa, UK and Germany.  Preparation for a North Irish Channel swim and indeed any channel is a well-choreographed and scheduled sequence of events leading to a coveted prize in completion of a swim.  The waters of Carlingford Lough prepare swimmers for the sub 15c temperatures, tidal flows, swells and water temperatures they can expect on the North Irish Channel.  Each year the Neap tides between June and September when the water is the warmest are when the North Irish Channel swim windows are based.
The infinity Channel Swimming season opened for 2018 on mid-summers day, 24th June with a two way relay success.  This group encompassed everything that makes a team, communication, leadership, support, organisation and focus were in abundance and mist of all the know how to have FUN.  Team CZECH IT Pete Slatjs, Rory Fitzgerald, Zuzana Procházková, Zdenek Sláma, Jakub Valnicek and Pavlinína Procházková 22 hours 59 minutes 15 seconds Ireland to Scotland to Ireland.     Nicholas Murch would defy some of what we know as logic with his low but productive stroke rate – on average 48 strokes per minutes Nicholas was covering water at a hares pace completing his Ireland Scotland in 11 hours 48 minutes 57 seconds.
Making every stroke count, Caroline Block USA returned to attempt yet untaken title of a two way North Channel solo swim.  Time, tide and mother nature did not permit the passage for a two way yet Caroline respectfully becomes joint Queen of the North Channel with Alison Streeter  with three successful North Irish Channel crossing,  her 5th 6th July 2018 success in 16:46:06 (01/08/2016  14:31.50, 04/08/2017  15:32.25)
USA is strongly represented annually on the North Irish Channel, especially the San Franciscans, Amy Gubser with clockwork precision executed her North Channel finish on 22nd July, 2017 Ireland to Scotland in 14 hours and 10 minutes, on board her husband Gregg and the O'Malley Daly Donegal connection.   On the same day the One Day wonders Bernard Stone, Danny O'Hanlon, James Brent and Will Collins-Wells took on the Dál Riata Channel Scotland to Ireland in 6 hours and 31 minutes arriving on shore in Cushedall to a pint of the black stuff served by the locals. Celebrating a first for the Dál Riata channel with a new wetsuit record.
A colourful array of swim suits would dawn the stern of Aquaholcis V following a successful day at sea with the quintet CoCo Channel Hannah Eastwood, Ruth McLaughlin, Dara Hamil, Helen Charlton and Audrey BArkleyEastwood on 4th August completing a one way relay and energy and enthusiasm for another Ireland to Scotland 10hrs 41 mins 30 seconds.
On the same day having won the male section of the Battle of Carlingford Lough swim RESULTS  at HITtheWALL 3 months earlier South African Kieron Palferman returned to the cool waters similar to Robbin Island to give a stunning, steadfast performance, Ireland to Scotland in 11 hours and 18 minutes.
On 5th August, having driven from home to ensure that he had all the kit he needed with him. Cold water, many smacks of jellyfish did not stop his path as Jaroslav Chytil of Czechoslovakia reached Scottish shores and hit the wall in a respectful 16 hours  4 minutes Ireland to Scotland.
The light of Killantringan Lighthouse shone bright on the 20th August for the arrival of Jenny Leigh Smith USA 13 hours  6 minutes  30 seconds Ireland to Scotland.  With a short break until the next tidal widow there was still talent a plenty waiting in the wings for their North Irish Channel swims.  Attaching from the go with every stroke Ryan Utsumi USA (check where is he from) pushing the limits with an amazing Ireland to Scotland finish on 4th September in 10 hours 34 minutes and 15 seconds. A savage swim.
Those down under can take a bow as they took out the 2018 North Irish Channel in showstopping style on the 5th of September.  Rachael Elkain AUS became the first Australian female to complete in a super speedy time of 10 hours and 32 minutes. Martin Filipowski  AUS on her heels to join his fellow Ozzie mates on the honor roll in a 12 hour 26minute finish time.
Respect to those who prepared and made an attempt at this amazing he journey and will return to ask permission of mother nature.
In the off season as Milo says we mend our nets – but the infinity Channel swimming team are never idle – La Bociana Strait, Cook Straits, updates for training and planning for and already booked out 2019 will get us through the winter alright.