Infinity Channel Swimming Beach Lifeguard Training
National Vocational Beach Lifeguard Qualification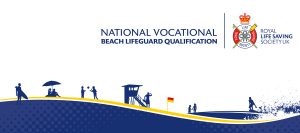 The National Vocational Beach Lifeguard Qualification (NVBLQ) was launched in April along with new resources.
The NVBLQ complies with the International Life Saving Federation beach competency framework. It will be offered by all three organisations and is endorsed by the National Water Safety Forum and the Royal National Lifeboat Institution (RNLI).
The NVBLQ will be recognised and promoted by RLSS UK, SLS GB, SLSA Wales as the national standard for vocational beach lifeguarding.
The NVBLQ course is a minimum of 40 hours long followed by a practical assessment on beach theory, life support, first aid, swimming pool practical and open water practical.
Upon qualifying with the NVBLQ, the certificate is valid for two years from the date of successful completion.
NVBLQ Course Pre-Requisites
Every candidate attending a NVBLQ course must:
Be 16-years-old or over at the time of the assessment
Have a good level of fitness
Surface dive to a depth of 1.5 metres
Tread water for two minutes
Climb out of deep water unaided and without steps
Be competent at swimming in the sea
Be able to swim 400m in less than eight minutes
Swim 100m on the front, 100m on the back and 200m in less than four minuets
The NVBLQ covers all elements of beach lifeguard theory, cardiopulmonary resuscitation (CPR), first aid, pool skills and open water skills. The course is physically demanding and will include swimming to set times and lifting. The NVBLQ is comprised of four modules and all must be successfully passed to attain the qualification.
Module 1 – Beach Lifeguarding – Knowledge and Understanding
Module 2 – Life Support and First Aid
Module 3– Ocean Skils
Module 4 – Pool Skills
Beach Lifeguards may renew their qualification only within the validity of their existing qualification. Lifeguards are recommended to engage in continuous training to ensure they are ready for duty.
In some circumstances, candidates may be able to show evidence of prior achievement to exempt themselves from section of the course. Exceptions may apply to holders of the following awards and qualifications (guided time credits are shown in brackets):
Current RLSS UK National Pool Lifeguard Qualification (NPLQ) [12 hours]
Current RLSS UK Life Support 3 [3 hours]
Current HSE Approved FAW [9 hours]
Where candidates wish to claim a training exemption, they must provide the course trainer with original qualifications prior to the start of the course.
A maximum of 12 hours accreditation for prior learning may be claimed.
The RLSS UK National Pool Lifeguard Qualification (NPLQ)