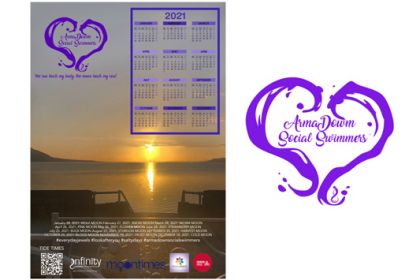 Celebrating the first full moon of 2021 on 27th January [The Wolf Moon] in collaboration with Moon Times infinity created this calendar for the 'ArmaDown Social Swimmers' with simple QRCode access to local tide times and listed the full moons of 2021.
Like us they just love swimming and cherish each dips / swims as a golden moment with the current 'one form of exercise per day restrictions. In normal times these 'selkies' would always be in and around the water.
Meet points for the ArmaDown Social Swimmers are usually at Sandy Bottom, Warrenpoint / at the stairwell facing The Whistledown Hotel which has been fondly named as @KelliesPoint by one of the groups members or by times at Camlough Lake.
Printed Calendars are available FREE from Joanne at local dips – swims. Joanne so passionate in her work and the founder of this group of inspiring people. For information on the ArmaDown Social Swimmers group and dip-swim options, contact: Joanne Callan / Try tHEAlternative.
Link outs: Click Here
Changing Cycles Try tHEAlternative. Moon Times The Zone Tearoom Outdoor Swimming Society Carlingford Lough Ferry
#everydayjewels #lookafteryou #infinity #greatadventure #armadownsocialswimmers #ThinkOutside #staysafe #h20play #openwaterswimming #mentalhealthawareness #selkie #ireland #saltydayz #Swim2021 #womeninsport #kelliespoint #iswim #glorycomesfromdaringtobegin #vitaminsea #greatoutdoors
@infinitychanne3