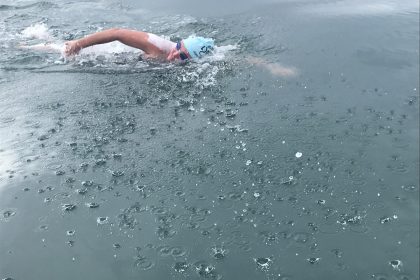 In the closing stage of her North Channel swim crossing @Catherine Breed finishes in 11 hours 6 minutes and 40 seconds to kick start the 2019 season.
Catherine left Bangor harbour early this morning the 25th day of June to make a start at 03:57.05 waved off by the Donaghadee Chunky Dunkers.
Wearing her black speedo swim costume, goggles and beyond your limits infinity swim hat with desitin as a sunblock she jumped into the 11c waters taking wind, choppy waters and lions mane in her stroke with not one complaint. Her swim progressed successfully and with 10 hours past Scotland was clearly in her sight. The rough water did not allow her perfect stroke to show its polished finesse.  She read the sea, paused, waited and danced to its rhythm.
As always Scottish shores don't give easily and for stalwart Catherine, this time the flat waters gave a fast pace swim and the advance towards shore was rewarding.
As the currents pushed south Pádraig advised Catherine she had 1K to swim.  'Do you promise it's only one Kilometer?' she asked but no reply came as there was no certainty.  After a further 20 minutes and in reward for a fast pace Catherine arrived in Scotland finishing midway between Killantringan lighthouse and Portpatrick harbour.
25.06.2019
Start time 03:57.05
Finish time 15:03.42
Total Time 11:06:40
USA
71st Swim
65th Swimmer
23rd Female
Catherine joins them
Catherine in the News
Solo Swimmers North Solo Swimmers
Marathon Swimmer Catherine Breed goes Beyond the Black Line
Congratulations Catherine from the infinity Channel Swimming Crew
infinity Peak Performance
South End Rowing Club
@olympic club
@dolphin rowing club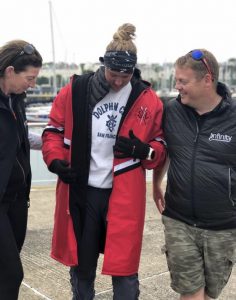 Catherine's story
Swimming for 11 hours gives you a lot of time to think and I thought a lot about how I was going to share this story.
To be transparent, I did not share my tracker because we were not sure I was going to finish the swim the first time around. The plan was to go for 3 hours, see if conditions got better and make a game time decision. After 3 hours we still thought it was going to get better, I would just have to fight for it. Once I realized how tough the conditions were going to stay and how challenging this swim was going to be I surrendered to Mother Nature and just fought to finish. 11:06.40 I did it.
I jumped at 3:57am into water averaging a high 52F to 54F, winds were coming from the North at about 10+ knots, and the current was heading in the opposite direction creating a stressed sea. It was a stress that I felt and it was only exacerbated by a fear of the Lions Mane pulsating only a foot or two below me. Videos and pictures do not do it justice.
That is the thing about marathon/channel swimming, you never know what could happen and the only goal is to touch land on the other side. We went out assuming it was going to get better, and parts of it were, but it wasn't the perfect or decent conditions I had hoped for. Wednesday looked good too, but again, that could have changed. I came down with a small cold Monday and Tuesday so maybe it was better I swam before it got worse. Hindsight is 20/20 and humans, much to our chagrin, have no control over the weather.
I don't want to take away from the monstrosity of the North Channel but I went into it expecting a much different outcome. Again, for sake of transparency, it feels very bittersweet. I know what I am capable of on a good day but perhaps Mother Nature was humbling me from a hubris I should have left in San Francisco. I cried when I finished as the wave of emotion came over me, training so hard and so long for something and accomplishing one piece of it but watching the other piece float away. Being overwhelmingly proud and quietly sad at the same time.
This has been an extremely challenging past 8 months struggling with changes and personal battles. I was just grateful that I got to prove to myself that despite adversity I am still tough and capable of accomplishing big things.  "Even a broken crayon still colors."
I hope that for someone else struggling, this story can encourage them to keep pushing, just take one stroke at a time, just get to the next 30 minutes. One moment at a time.
While I did not leave with a record I left with a family. I felt connected to the Irish Sea in a way I only feel in the Bay. The sea, the people, the environment all welcomed me as if I was a long lost relative (I do have some Irish blood). The infinity Channel Swimming and Donaghadee "Chunky Dunkers" Swimming Gang! SKINS ONLY GROUP believed in me more than I think I believed in myself. They are the kindest people I have ever met and treated me as if I were one of them, hospitality like that is far and few between now a days. The Infinity Team was organized, thoughtful, prepared, and experts on the Channel—I knew when I jumped in that I could trust them fully. Jacqueline McClelland, Jack Boyle, and Padraig Mallon got me across with every cheer and every push.
I finished for them, for every person that has encouraged me, for the swimming community, for Dolphin Club San Francisco and Southend Rowing, for Olympic Club Athletes, for Shark Stewards, for Night Train. I finished for all those that have attempted a Channel and been thwarted so close to the end.
I never thought I would swim this Channel and yet here we are. And here I am ready to take it on again.
"Glory comes from daring to begin."
Thank you all <3
Catherine