HITtheWALL 2018 Feedback
Cath Pendelton UK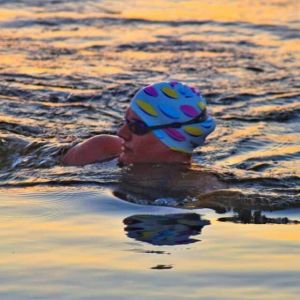 2018 – I achieved one of my childhood dreams and swam the English Channel raising over £3500 each for two charities (SSAFA and Welsh Hearts)
HITtheWALL really helped me to believe in myself and just keep swimming, smiling and PMA (oh and to sort my feeding thanks Jackie) The channel for me physically didn't hurt (well the 🤮 wasn't pleasant) but it was mentally so tough, and in order not to moan or ask any questions about time or distance, I made the decision that the only thing I was allowed to say at feed stops (unless meds or change in feed required)  was "
Thank you and I'm having a nice day" 
 (a bigger challenge than the swim itself some will say about me as I love to talk!) Also, the hat I wore was yellow to remind me of those yellow buoys on the 10hr Swim and my chatthen
 "to the buoy and beyond"
When I booked HITtheWALL I joked that I was doing it in order to lose my sea swimming "armbands" as I'm a lover of swimming in rivers, ponds, and lakes in the winter and hadn't done much sea swimming in comparison.  It certainly pushed me in different swimming conditions and I came away a lot more confident in my sea swimming ability, made awesome new friends and left hungry do the north channel in a few years (money needs to be found and swim speed needs work) 
for 2022 my 50th year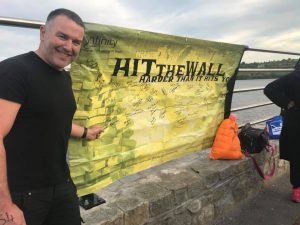 First of all I didn't know what to expect when I booked Hit the Wall but as the event loomed I was struggling to get swims under my belt that was anywhere near the temperature of Carlingford lough.
That was my major concern.
I've only been open water swimming for two seasons before I booked HTW and only one season without the wetsuit, before that I swam 1 mile every Sunday.
I loved everything about it, the first swim night with the fire walk was just right to start with, but the warm up was so funny. The inspirational speaker was excellent,amazing!!! I still think about what she spoke about.
I could go on and on about the other activities and swims but you won't get any negatively from me because it was great.
Jacqueline was amazing and I think I could swim any distance with her on my boat.
I filled it a questionnaire about HITtheWALL and it asked what other activity could be included, my answer was maybe a team event?? Because I met so many amazing swimmers at HTW it would of been nice to talk to more of them.
You are doing a great job and I'm so glad I came to Ireland 🇮🇪 and in the end the water temperature wasn't an issue 
 and I know now what to expect in regards how my mind works when I've Hit the Wall and not to believe it.
Since HITtheWALL I've been working on my swimming and now believe I'm swimming the best I have since taking off the wetsuit.
All the best 
Stuart
Sam Whelpton South Africa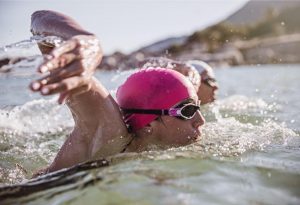 HITtheWALL was an awesome swimming experience- Thank you so much.
I learnt a lot just by socializing and interacting with all the international swimmers who attended it too.
It most definitely helped my swim across the ENGLISH CHANNEL on the 3rd of August 2018!
I'll recommend it to everyone and i hope to be back soon.
Lots of Love
Sam x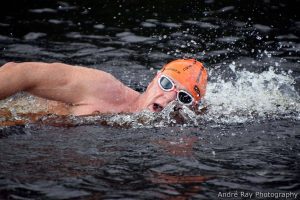 Swam the English Channel, in 16hours , 41 min, and covered 70km. Was on a spring tide and hit a bit of bad weather on the day.
HITtheWALL 8 hour swim,  –  how to clear the mind and swim with empty taught's, and just keep those arms turning.
Hope to make it in 2019 to do HITtheWALL  again.
John McKenna Ireland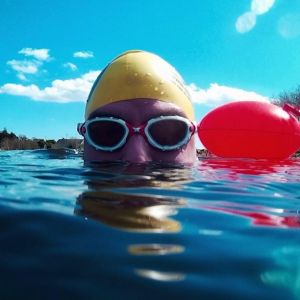 Replying to the feedback email you sent out on how it helped me this year.
I did HITtheWALL in a wetsuit as I thought that was my level. The first thing I did after that weekend was loose my wetsuit. I've since spent the rest of the season in skins and swimming in more events than ever before, all the time trying to improve. Now I'm continuing to swim through the winter in skins with my friends in Lough Neagh. I'm loving the confidence I've gained from Hit the Wall and I love swimming that much more now and I can't wait to see where it takes me. I did have a fear of the deeper swims and the old 'what's underneath?' thought. That has since gone and I've learned to relax more during longer swims. 
I loved it and would recommend it to anyone wanting to see what they're made of.
Best of luck.
John 
Marie Watson Ireland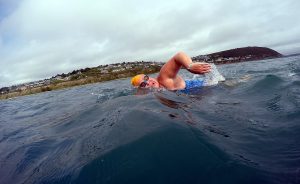 Thank you to Jacqueline Pádraig and all at HITtheWALL for helping me prepare for my swims. I did my first weekend with infinity a few years ago and it wasn't plain sailing. I met with one big obstacle that I was not expecting … night swimming. The swim could not have gone worse for me and my head… but off I went the following day yellow limits and beyond hat in place and faced and conquered my fears surrounded by support. Those in the rib when they shouted you're doing great really didn't know how much those words ment to me that Saturday..
That weekend prepared me not only for problems in the water but most importantly taught me how to manage the unexpected and the dreaded doubt demons. I can't wait for this years swims and for more learning and fun.
Marie