Some years back, we decided to undertake an adventure on the Cook Strait.  At the time it seemed like a pipe dream to pilot and support swimmers across the Cook Strait but as time went on, different parts of the jigsaw fell into place.  We love what we do and saw an opportunity on the Cook Strait to share this passion with more amazing people in this sport.  
In late 2019, after many years of research and a successful meeting with locals, we set the first date for a Cook Strait swim window.  We had been inundated by experienced channel swimmers from all over the world, many who have swam with infinity on the North channel.  Two swimmers were chosen Anna Strachan Australia who swam the North Channel in 2019 with us, standing out for her courage in overcoming her ability to handle cold water and Colleen Mallon Ireland crew mate, sister, friend and inspiration. 
We based ourselves in the relaxed Picton area with loads of amazing scenery, people, eateries and swim routes where the climate is also beautiful. The adventure began on the 20th February after much scoping, planning and weather watching.  We set off in the early hours of the 20th for a North Island start point.   
Our original course was due to be North West, dropping to South West, however when we arrived at the start point the wind was blowing 20Knots and sea conditions were not suitable for night swimming.    We held back for a few hours until conditions improved and the dawn appeared.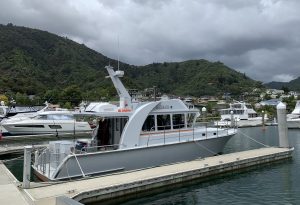 Colleen and Anna were awakened from a cosy sleep on board the beautiful boat Katabatic, built with the finest workmanship and piloted by Grant Orchard from the local area of Picton.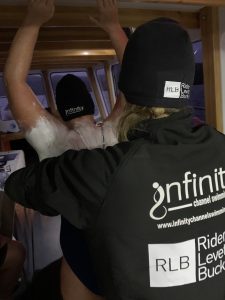 Both Anna and Colleen and their crew Bridgeen, Alex and Jacqueline kicked in to action, getting the girls greased up and motivated for what was looking like a cold gray morning beside the cliffs of Ohou Head.  The final checks and calculations were made by both Pádraig and Grant on board prior to the start.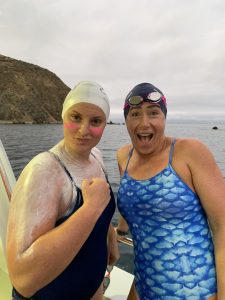 These two ladies are in the mix with some of the worlds finest channel swimmers having amazing attitude, guts and determination.  Always a huge smile and always a pleasure to have them swim with us.  Both swimmers where well aware that this was a pioneering swim for infinity Channel Swimming.  Each involved had individual objectives – Anna with unfinished Cook Strait business and Colleen needing longer training swims to fulfil her ambitions this year on the North Channel coupled with infinity Channel Swimming's ambition to pilot on the Cook Strait. This being the first time here added a lot of learning and pressure to make sure that everything was perfect.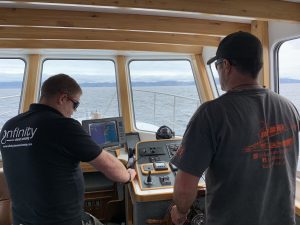 The swim started in great conditions at day break after the sea had quickly settled under the watchful eye of head crew Milo McCourt with a lifetime of experience in, on and around the water. It was important to have the best of the best on board so it would remove any distractions from the piloting.  Pádraig and Grant quickly got to work both freely sharing their years of knowledge to help the swim progress on this challenging yet beautiful stretch of water.  Plans had to be amended due to the delay in the original start time but soon got underway with some nice Westerly swim progress.  Both Anna and Colleen were in great spirits.   A tandem channel swim is not the easiest physically and mentally for channel swimmers, each swimmer is worrying if they are going to be too slow and hold the other swimmer back and this plays on their mind.  Each is an individual with different energy spikes, different head space and different focus both wanting and willing each other on.  In saying this both Anna and Colleen gelled perfectly together.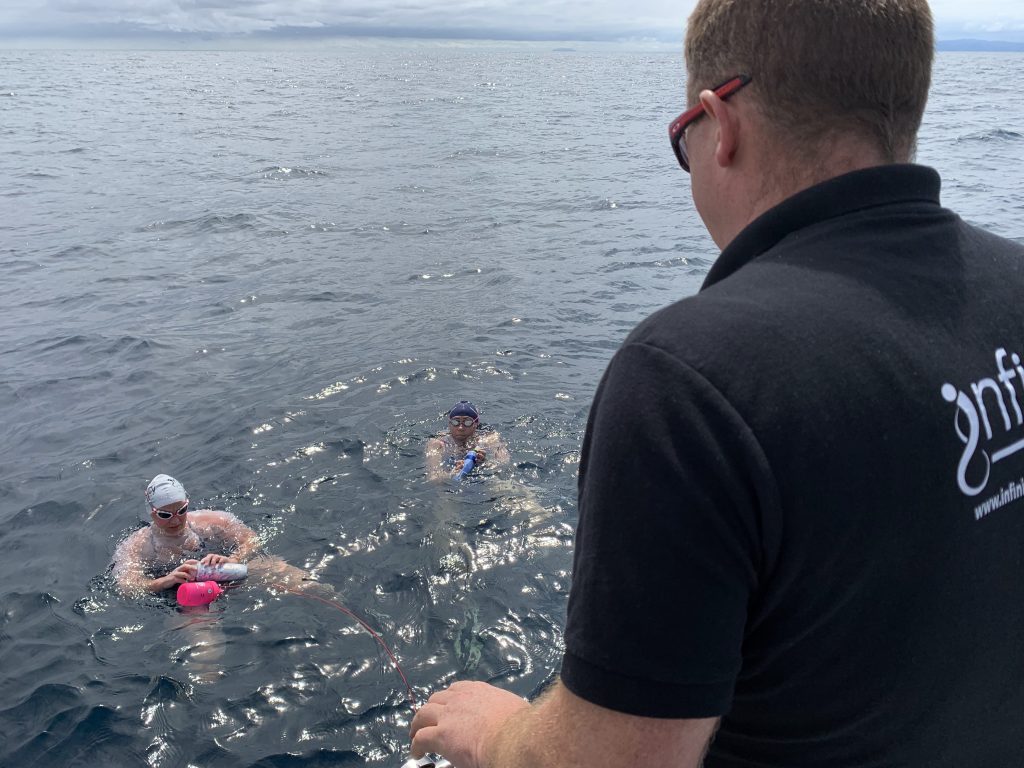 As the day progressed, confidence was building for everyone, feeds where going great, spirits were high, crew were running like clock work with water temperature fluctuating 17- 18C and air temperature fluctuating 18-21C.  Regular updates where given to both Anna and Colleen during their feed stops which were scheduled half hourly.  As progress started to slow, both swimmers and pilots became concerned.  This started at the turn of the second tide.  It took almost 2 hours for the tide to turn. Pádraig and Grant where constantly analysing the currents and regardless of what the research had shown Mother Nature had her own opinion.  
Some days prior to the swim start we sailed out to the remote Arapawa Island, where we met local fisherman Joe who is from a family with over five generations of experience fishing on the Cook Strait.  Joe had mentioned the previous super moon and suggested that the neaps which occur after it are as strong as the spring tides.  
We talked over all the various routes and he shared his wealth of information very freely.  He remains truly amazed that someone would choose to swim across this treacherous body of water.  He said 'you know this channel has sunk ships' ! He reminisced his childhood when he and his father would sail out to meet swimmers.  As Mother Nature started to show her true ability, Joes words rang true in our ears.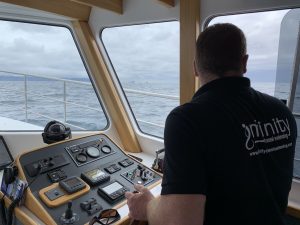 No matter what way we wiggled or turned we continued to get sucked in to the one spot only making 1.5 K/H westerly progress.  Anna and Colleens spirits remained high with everyone making continued effort at their individual roles to help advance the swim.  We threw every book, every trick that we know at it and it continued to trick us.  The girls kept ploughing away feed after feed, stroke after stroke.  The respect we all have for both Anna and Colleen, not just in this swim but in all the endeavours we have shared together meant that we knew the lack of progress did not lie with these two legends of open water swimming.  It lay firmly in the hands of Mother Nature and her unwillingness to grant us passage on this occasion.  The decision to bow our heads gracefully and in respect to yet another mammoth channel was hard taken, but not after we gave 110% effort.  Anna and Colleens Cook Strait swim crossings were paused with over 10 hours and approximately 38 Kilometers swam.
Pádraig is a firm believer in not being distracted by other peoples plans and always makes his decisions using all the information available including local knowledge, charts, previous swim information, tidal charts and all topped off with one of the most important things he relies on – his gut instinct.  Full responsibility for all decisions lie with him in this process, regardless of the outcome.  In saying this, after both Anna and Colleen were on board Katabatic and warmed up, the quest for an answer into why the swim did not suceed began.  
For infinity Crew taking their first look at the days tracks, the answers would start reveal themselves.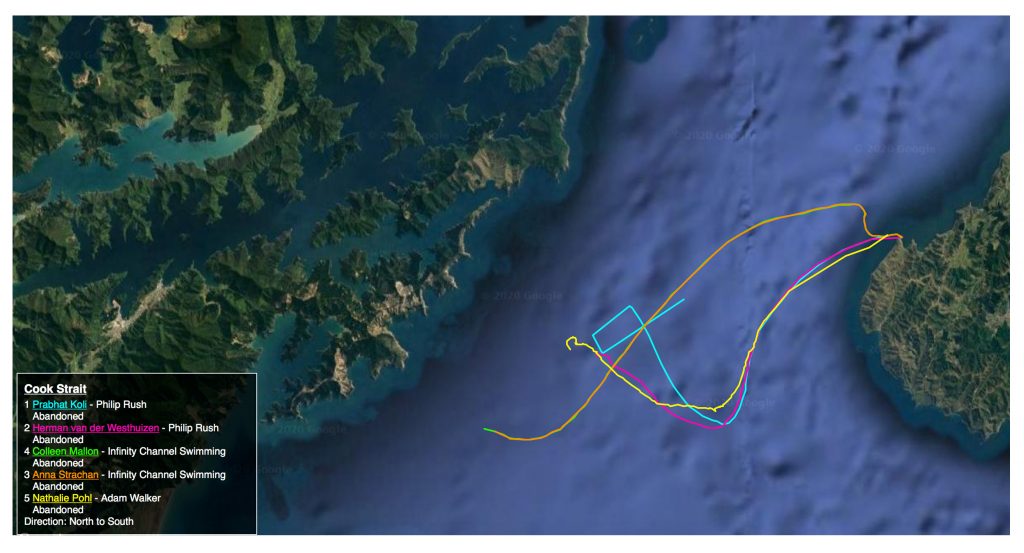 With this caliber of swimmers from all over the globe, you would imagine that success was inevitable.  Prabhat Koli India on the last of his Oceans Seven, Herman Van Der Westhuizen on his fifth Oceans Seven who swam with infinity Channel Swimming on the North Channel in tasking water conditions, Colleen Mallon Ireland with various swims all over the globe including third fastest time set on the North Channel with Brian Meharg,  Anna Strachan Australia completing a comfortable 11 hours 14 minutes on the North channel with us as well as English Channel, Kiwi Channel,  multiple Rottnest Channels and 20 Bridges swim finishes and Nathalie Pohl Germany with an impressive resume and four of the Oceans Seven completed. One after the other, each reluctantly bowing out to Mother Natures infinite power, she to reluctant to let anyone succeed. The Channel swimming community I'm sure has the utmost respect for all the swimmers who battled with more energy i'm sure has the utmost respect for all the swimmers who battled with more energy.  You all certainly have the respect of the team are definitely seeing the conditions firsthand You all certainly have the respect of the team are definitely seeing the conditions firsthand. Stand proud 
As the wise man Milo McCourt says, 'the white line does not indicate if it was successful or not.  It is only your own definition of what you learned and achieved that matters'.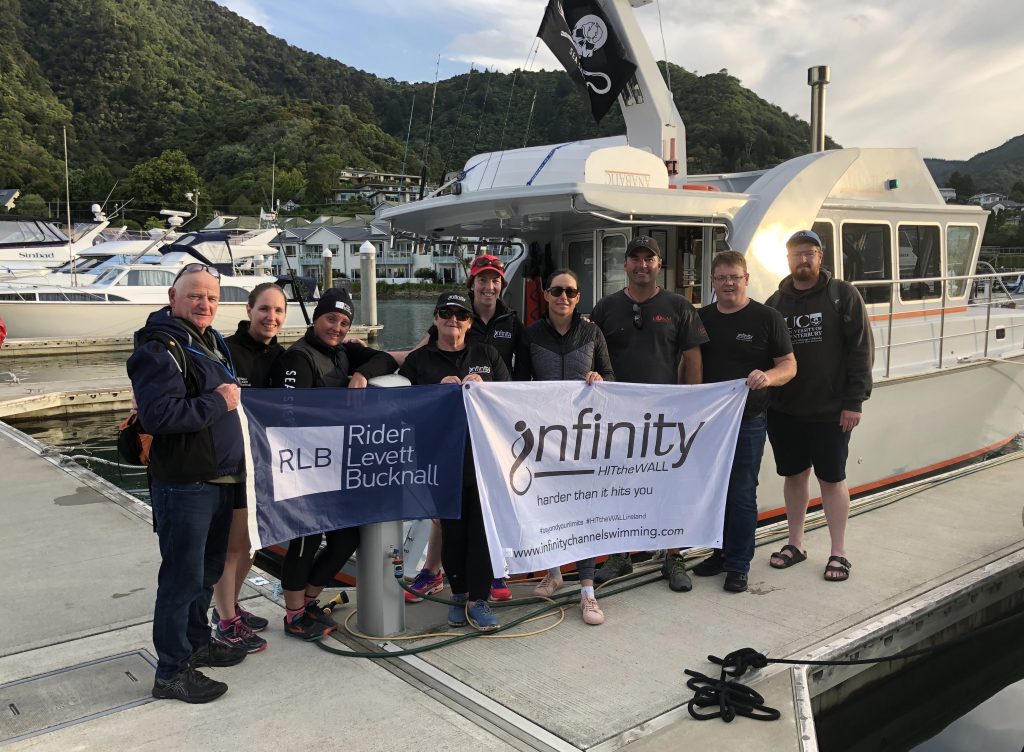 Left to Right: Milo McCourt, Alex Engle – Mallon, Colleen Engle – Mallon, Bridgeen Mallon, Jacqueline McClelland, Anna Strachan, Grant Orchard, Pádraig Mallon and Liam O'Donnell.
An adventure from a dream, where we got to spend time with amazing people, where we got to see incredible athletes perform, where we learned a little more about each other and ourselves, in a country so beautiful, where they respect Mother Nature so much.
In our eyes, we have learned and achieved so much outside everyone's comfort zones but are even closer now than before to achieving the dream. 
What a great first experience piloting on this beautiful and challenging stretch of water.  Can't wait to help more people fulfil their Cook Strait ambitions in the future.
Our thanks to all who shared this adventure with us: Anna Strachan, Colleen Engel-Mallon, Grant Orchard, Milo McCourt, Bridgeen Mallon, Alex Engel-Mallon, Jacqueline McClelland,  Tracy Clark, Aoiffe Lynch, Pádraig Mallon, Joe, Lynton Mortensen, David Conradie, Steve Walker, Jonathan Radcliff, Liam O'Donnell, VLAD SWIM, Trent Grimsey and Mike Cochrane.
See you all on the next adventure.
#glorycomesfromdaringtobegin #RLB #seashepherd @infinitychanne3
www.infinitychannelswimming.com
+447879413131