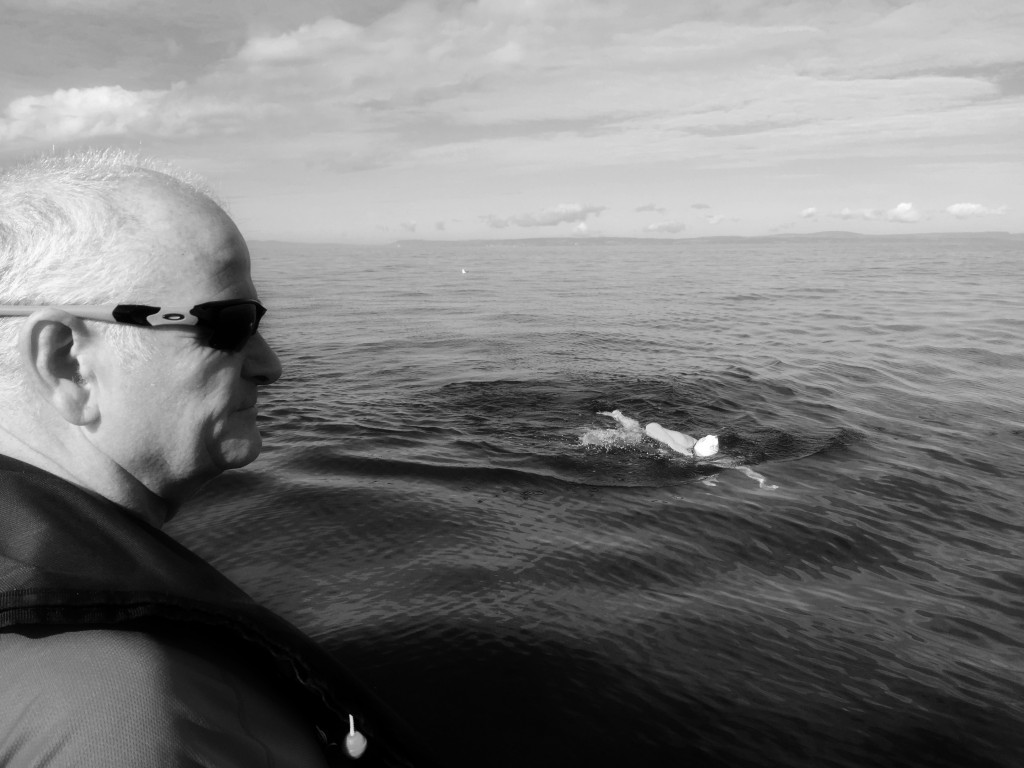 Infinity Crew Member Milo McCourt has been an accomplished Open-water swimmer from the early 80's.
A good crew member needs a wide range of experience.  Milo has grown up in, on and around the water.  He has an array of achievements to his armour including several Ironman titles and a relay English Channel Swim.
Milo can be found on the pool side in the winter teaching and coaching swimmers as a volunteer.
Milo's motto's are
Teach them, train them, Challenge them, race them and party with them.
If it's not fun we're not playing.
Qualifications
Swimming Coach
Swimming Teacher
AED Automated External Defibrillator  Qualified
EPI Pen Qualified
RLSS Pool Lifeguard
RLSS Open Water Lifeguard
RLSS Beach Lifeguard
Emergency First Aider
Infinity Crew Trained ( Contains of 6 hour in depth  training for crew taking part in a solo or relay channel crossing)
Channel Swimming
Mc Court participated in the Pokos Stag relay across the English Channel on 14 July 2009 under the guidance of escort boat pilot Reg Brickell, Jr. with his daughter Aoiffe McCourt-Lynch, Micky Lynch  Sean Mallon, Martin Mallon and Pádraig Mallon.
Milo can be found training solo and relay teams trueout the year and with his ferm be honest approach helps each person to have a successful attempt at there chosen channel or challenge.
Camlough Lake
Milo also completed the 19.5 km Port Oriel Swim in the Irish Sea he considered the 'Godfather' of open water swimming in local circles.
International Extreme Race of Winter Swimming
McCourt participated in the 2015 International Extreme Race of Winter Swimming, a technically difficult 500m swim across the Yellow River in northwest China's Qinghai Province at an altitude of 2,200 meters in Tibetan Plateau, the world's highest altitude swimming race.
Triathlon Career
Mc Court was awarded a bronze medal at the 2014 National Sprint Triathlon Series. He also was awarded the best all rounder as he competed at Sprint, Olympic, Ironman 70.3 and Ironman triathlons during the 2014 season.
Infinity Crew Member Milo McCourt is key part to your success.