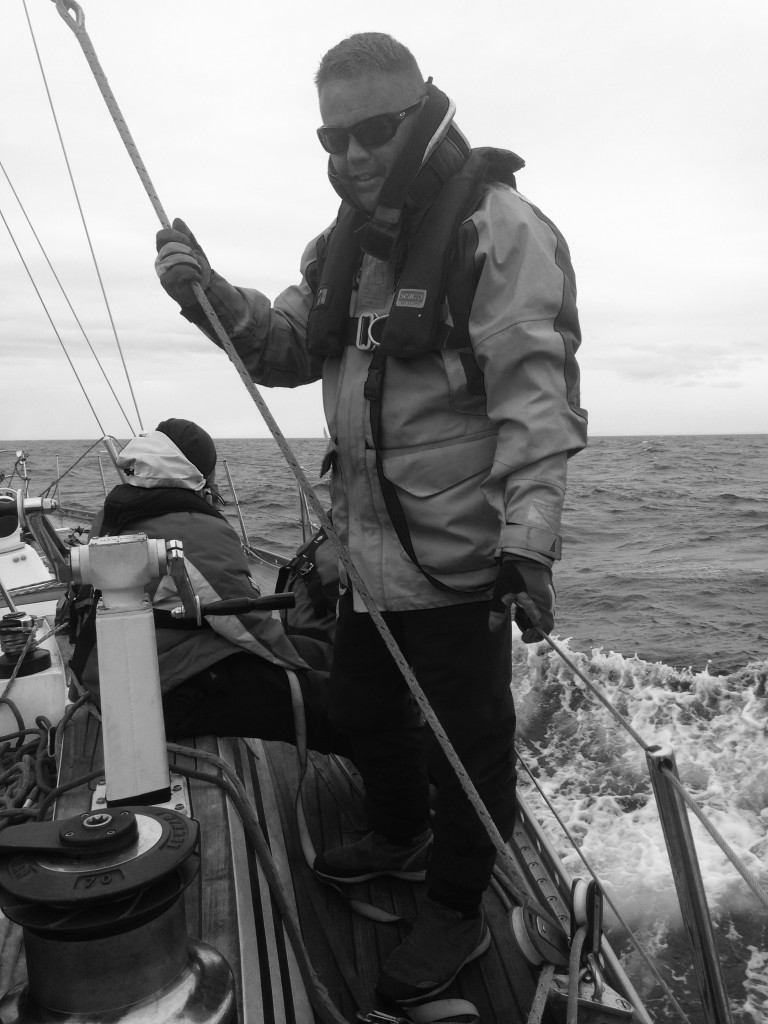 A good crew member needs a wide range of experience.  Infinity Crew Member Pádraig Mallon has grown up in on and around the water.  He has an array of achievements to his name including a solo North Channel Crossing, solo English Channel Swim and a Trans Atlantic Crossing.
Honours
Pádraig enjoys being in, on, or around water but most of all being at play in the sea with swimming, kite surfing and sailing as some of his accolades. He has two Guinness world record titles for team participation in 'the greatest distance open water relay' and 'the greatest distance relay run'. If not organising a fantastic event on water, Pádraig can be found helping other event organisers with their calendared events marshalling, at registration or often just before the finish line to encourage others in achieving their goal.
Born and raised in the townland of Carrickbracken and Carrivekeeney in Co. Armagh he is the oldest son, born to Bridgeen and Mick Mallon. Both parents are long distance swimmers; his father a veteran Ironman triathlete and his siblings all successful in endurance and open water swimming events.
MOTIVATION If your dreams don't scare you – you are not dreaming big enough.
ADVENTURE explore the environment we have around us. Master your own challenges within the confines of your own natural environment.
PREPARATION is everything. Poor mental preparation leads to failure – mental ability is more important than the physical ability. If the mind fails, you will never make it, but if the mind is strong, you have the finish line in sight.
2009 Setting the bar
ENGLISH CHANNEL SWIM – TEAM CAMLOUGH 14th July 2009 Distance: Time: Boat pilot:  Reg Bricknell Team Name: 'POKOS STAG'. Team: Milo McCourt, Aoiffe McCourt-Lynch, Micky Lynch and brothers Sean Mallon, Martin Mallon and Pádraig Mallon. During this period in 2009 whilst preparing for 'POKOS STAG' Channel Swim, the Camlough Lake Water Festival was born and has developed since into a successful annual event with swims including The Battle of Carlingford Lough and The Smile Mile held in local waters.
GUINNESS WORLD RECORD 9th – 19th September 2009 Pádraig is one of three masterminds with Aoiffe McCourt and Mick Lynch who successfully planned the Guinness World Record open water relay in Camlough Lake. The support of the entire community was immense. Guinness World Record Distance: 680Km non-stop relay swim (Still held 01.10.2013). In the 'World Open Water Swimming Performance of the Year Awards' out of 9,133 votes cast by fans around the globe, 2,003 individuals voted for Camlough Team of Ireland.
2010 
CHALLENGE BARCELONA October 2010 Maresme Spain Finish Time: 13.33.46
2011 Another year's progress
ROBBEN ISLAND TO MOUILLE POINT SOUTH AFRICA 3rd February 2011 with Cape Long Distance Swimming Association Finish Time: 4 Hours 55 minutes.
NORTH CHANNEL SWIM – A SECOND TEAM SUCCESS 22nd August 2011 Distance: Time: Team Name: 'Camlough Lake' Irene Kennedy, Paul McCambridge, Aoiffe McCourt/Lynch, Micky Lynch, Martin Mallon and Pádraig Mallon.
IRONMAN AUSTRIA Klagenfurt Austria Finishing time 13.23.25
2012
NORTH ATLANTIC OCEAN SAILING April – June 2012 SAIL ON SAILOR with husband and wife duo Terry and Carol Hogan. From: Nassau, Bahamas To: Lagos On: 'COMMON SENSE Catalina c42'. Distance: 4078NM taking in the Bermuda Triangle Time: 39 days.
KEEPONRUNNING GUINNESS WORLD RECORD Newry July to August 2012 Team realy of 200 runners. Total distance: 3504.28 miles non stop over 16 days.
RUSSIAN WINTER SWIMMING CHAMPIONSHIPS Siberia, December 2012 Venue: Tyumen Siberia Water Temperature: 0.5 degrees. Air Temperature -33 degrees
While attending ILDSA awards event in Fermoy, Co. Cork with Milo McCourt, the invitation came from Nuala Moore and Anne Marie Ward to travel to Russia to compete in much acclaimed Russian Winter Swimming Championships. He trained for this event with Micky Lynch and Andrew Coyle who would become the 2013 CAMLOUGH LAKE ICE TEAM. Pádraig placed 3rd in one of the Russian Winter Swimming Championship events. 'Freezing to the face, feet to ice and hands to ladder'.
2013
ICE SWIM CAMLOUGH LAKE 1800m ICE SWIM on his own doorstep January 2013 Pádraig would become Ireland's third overall and first Male Ice swimmer and International Ice Swimming Association member – Number 35. Venue: Camlough Lake , Co. Armagh N.Ireland. Water Temperature: 3.7 degrees C. Distance: Micky Lynch, (1000m) Andrew Coyle (1610m), Pádraig Mallon (1800m).
ENGLISH CHANNEL SOLO SWIM 06.07.2013
Boat crew: Reg Brickell, Aoiffe Lynch, Bridgeen Mallon, Clare Mallon
Date: 6th July, 2013 Crossing: 14 hours 48 minutes.
Support by way of written white board comments where a mental boost for Pádraig during his crossing. Having had many texts and messages from friends and family prior to the English channel Pádraig could relate to what was written. Some had a huge effect on his mind-set including one comment from Nuala Moore – at one point when Pádraig was feeling really tired her comment 'leave it all in the channel' gave him the boost to do just that and timely enough as it was he seen through the midst – the French coast although it would be another 3 hours off at that point. Once finished there now would be no teaching like the experience's that Pádraig and the team could report on the swimmer Pádraig was only one quarter of the story – Clare, Bridgeen, and Aoiffe had been by his side the entire journey.
The Ultimate
The ultimate goal would always be the North Channel with the only obstacle in it's path (the English Channel) now out of the equation, a date could be set. Clearly it was evident that his journey in life, the coincidences, the challenges achieved, the learning and the adventures would bring Pádraig to this point. Rest until next season? – no chance the North Channel would not be in 2014 it would be in 6 weeks. As a team they knew their approach was 99.9 % correct. The same preparation and event schedule for the crossing and their approach to Pádraig would apply for Channel 2. Clearly the motto you rest you rust was true. Phone calls were made, the team regrouped, fresh in their minds their duties, the homework and learning outcomes summarised, and in private the date was set – the North Channel was mission possible.
NORTH CHANNEL SOLO SWIM 16.08.2013
Boat crew: Brian Meharg, Aoiffe Lynch, Bridgeen Mallon, Observer: Andrew Coyle
Date: 16th August, 2013 Crossing: 12 hours 49 minutes.
Once the date was planned, a short swim in the sea at Donaghadee gave Pádraig the reassurance's that he needed. His mental attitude was clear and focused, the sea would take him safely on his journey. Asking permission from the sea was agreement that needed to be made after all he would leave himself open to all the elements of nature. The North Channel, (Irish Channel) which the most challenging of the "Oceans Seven swims" lies between the North of Ireland and the Mull of Galloway and is a distance of 18.6 nautical miles (35 km.) Reference Admiralty chart number 2198.
Well before dawn on the morning of 16th August after a bowl of hot porridge Pádraig left Camlough with his team for Bangor – there was no doubt given the weather, wind and wave forecast that once left Bangor the next stop would be Scotland. Having previously worked with Bryan Meharg and Bangor Boats Pádraig had full trust in him and his team to help guide his journey.
Cold and miserable, Pádraig did not get the most perfect of tides but agreeably in life you play with the hand of cards you are dealt. He wanted this finish line the most and was determined more than ever to reach it.
TWO CHANNEL CROSSINGS WITHIN SIX WEEKS 06.07.2013 AND 16.08.2013
Pádraig is the 3rd person to have swum the English Channel and the North Channel in the same season – remarkably only 6 weeks between his two swims. The 1st person to complete this successful duo was Kevin Murphy in 1970 followed by Alison Streeter in 1988. (From current available information).
PLAY TIME
Even extreme marathon swimmers need 'me' time – Pádraig has been kite surfing in amazing venues like Byron Bay, Vietnam, Capetown, Thailand, Gran Canaria, Lanzarote, Egypt and Lake Garda as has amazing backdrops close to home in Cranfield and on the West coast of Ireland Favourite stop: Achill Island.
2014
Lanzarote To Fuerteventura
Mallon completed a 15 km crossing across the Strait of La Bocaina (or La Bocaina Strait between Fuerteventura and Lanzarote in the Canary Islands off the west coast of northern Africa in 5 hours 1 minute.
Around Ireland Yacht Race
Mallon was crew mwmber on board Serena with team circumnavigating Ireland in 10 days and even managed to get a swim in during a bit of calm water and no wind on the west cost of Ireland
Step Out Of The Ordinary Blue Letter Campaign
The Step Out Of The Ordinary Blue Letter Campaign by Pádraig Mallon and Camlough Lake Water Festival is nominated for the 2014 WOWSA Awards' World Open Water Swimming Offering of the Year.
2014 World Open Water Swimming Offering of the Year Nomination
The nomination for the Step Out Of The Ordinary Blue Letter Campaign by Pádraig Mallon reads, "Pádraig Mallon and the team at Camlough Lake push themselves to extraordinary distances and depths. With channel swimmers, Ironman finishers, triathletes and ice swimmers on this team they know well what it is like to set personal challenges and realize their own dreams and the potential sporting abilities of others. The 'Step out of the ordinary' Blue Letter campaign is a means to encourage others to identify and welcome a new challenge, any challenge. In the 'Step Out of the Ordinary' event, the CLWF team share their joy for life and adventure with others, inspiring them to step out and step up to a challenge within their grasp, but yet somewhat out of their comfort zone. For this uniquely inspirational and personalized campaign, for its highly effective means to motivate people to achieve their own dreams, for its innovative creations in the open water world, the Camlough Lake Water Festival's Blue Letter Campaign is a worthy nominee for the 2014 World Open Water Swimming Offering of the Year."
Coaching Career
Mallon also helps prepare emerging ice swimmers for 1 km or 1-mile Ice Swims at the Ireland Ice Swimming acclimatization training course in Camlough Lake.Ireland Ice Swimming Championships
Ireland Ice Swimming Championships

Video by Pádraig Mallon at the 2015 Ireland Ice Swimming Championships, hosted by the Camlough Lake Water Festival and sanctioned by the International Ice Swimming Association at Wild Water Armagh (Conroy Pond) in Northern Ireland.
External links